Co-sleepers offer a convenient sleep solution for parents who want to keep baby within arm's reach throughout the night. These five innovative designs are safer than bed-sharing, but still offer the benefit of closeness for breastfeeding, comforting and bonding.
This co-sleeper provides excellent visibility with four breathable mesh sides. Built-in leg extensions enable a customized fit for varying bed heights. In addition, the Clear-Vue can be used as a freestanding bassinet, and is equipped with four castor wheels for easy mobility. Reasonably priced, this one won't break the bank, plus it comes with storage space, a mattress, fitted sheet, and a nylon strap and plate for a secure attachment.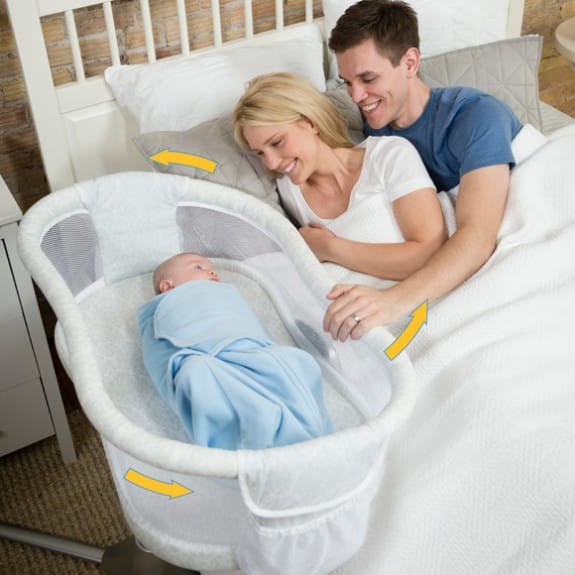 The Bassinest is the only co-sleeper that moves to bring baby close, while maintaining a separate sleep surface. This modern sleeper is great for recovering c-section mothers, with a side wall that lowers for easy access. The Bassinest Premiere Series has additional features, including music and soothing sounds, two levels of vibration, a nursing timer and nightlight.
BabyBay Maxi Cot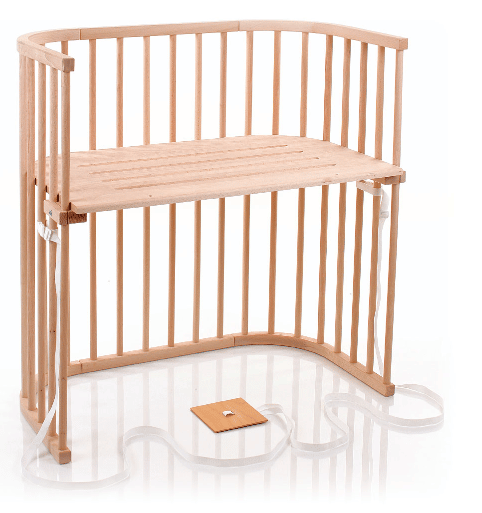 The Maxi Cot offers a simple, clean design made of solid beech wood. What makes this co-sleeper unique is its versatility. It can be converted to a playpen, travel cot, game table, bench, chair, desk or even a doll changing table! A side bar can be purchased as well, turning the cot into a full freestanding bassinet. The cot attaches to an adult bed without any tools, and also fits wide frame beds and futons.
Arm's Reach has a gorgeous sleigh bed co-sleeper for a more classic crib look. Its elegant design also transforms into a freestanding bassinet or a love seat. This co-sleeper comes with everything parents need – a mattress, fitted sheet, nylon strap and plate for secure attachment, as well as a removable ventilated bumper pad.
Chicco Next2Me Side Sleeping Crib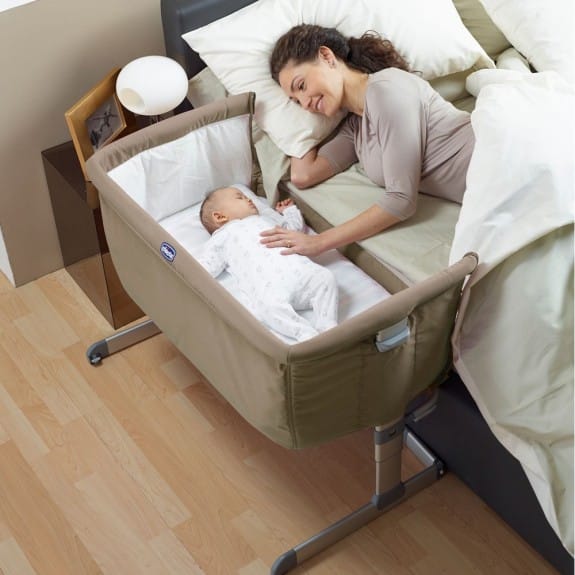 One standout feature about the Next2Me is the option to incline the crib, allowing baby to breathe easier during a cold, and for help with reflux symptoms. And moms will love this – it comes with a removable washable lining. The Next2Me crib is bigger than other sleepers, and can be used as a bassinet with improved air circulation provided by a net window.
Save