When a baby is on the way, there's no shortage of things to plan and prepare for. One important decision is choosing a name that fits the little one just right. If you're looking for baby names that start with the letter D, there are plenty of options to consider! From classic names like Daniel and David to unique options like Daxton and Dulce, there's a name to suit every preference. Some popular choices include Dylan, Delilah, and Devin.
Here are 50 Boy and Girl names that start with D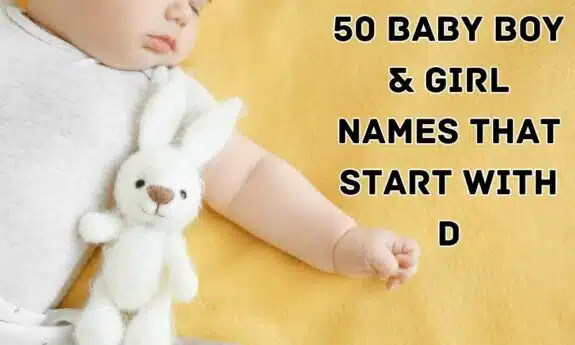 Boys
Daegan – "Black-haired"
Dalton – "Settlement in the valley"
Damien – "To tame" or "To conquer"
Daniel – "God is my judge"
Darby -"deer park"
Darian – "Gift"
Darius – "Possessor" or "Maintainer"
Darnell – "Hidden place"
Dashiel – "Page boy" or "Herald"
David – "Beloved"
Davis – "Son of David"
Dawson – "Son of David"
Dax – "Leader" or "Water"
Daxton – "Warrior's town"
Daylen – "Hollow" or "Valley"
Deacon – "Servant" or "Messenger"
Dean – "Valley"
Declan – "Full of goodness"
Demetrius – "Follower of Demeter" (the Greek goddess of agriculture)
Dempsey – "proud or arrogant"
Dennis – "Follower of Dionysius" (the god of wine)
Denver – "Green valley"
Denzel – "From a high stronghold"
Derek – "Ruler of the people"
Deshawn – "god is gracious"
Desmond – "Gracious defender"
Devan – "Poet"
Deveraux – "banks of the river"
Devlin – "Fierce courage"
Devonte – "Of a divine nature"
Dexter – "Skillful" or "Dexterous"
Dimitri – "Earth-lover" or "Follower of Demeter"
Dominic – "Belonging to the Lord"
Donovan – "Dark-haired chieftain"
Donte – "Enduring" or "Steadfast"
Dorian – "Of the sea" or "Gift"
Douglas – "Dark river"
Dov – "Bear" (Hebrew)
Doyle – "Dark stranger"
Draven – "Hunter"
Dresden – "People From The Forest By The River"
Drew – "Manly" or "Courageous"
Drexel -"to turn"
Dreyden – "valley and land that is dry"
Duncan – "Dark warrior"
Dustin – "Valiant fighter"
Dwight – "White" or "Fair"
Dylan – "Son of the sea"
Girls
Dabria – "Angel of death"
Daelia – "From the valley"
Dagny – "New Day"
Dahlia – "Valley"
Daisy – "Day's eye, flower name"
Dakota – "Friend, ally"
Dalia – "Gentle, graceful"
Dalila – "Delicate"
Damara – "Gentle, tame"
Damiana – "Taming, subduing"
Danica – "Morning star"
Daniella/Danielle – "God is my judge"
Danika – "Morning star"
Danitza – "God is my judge"
Daphne – "Laurel tree, victory"
Darby – "Free from envy"
Darcy – "Dark-haired"
Daria – "Upholder of the good"
Dariana – "Upholder of the good"
Darla – "Dear, beloved"
Darlene – "Darling, dear one"
Dasha – "kingly or rich"
Davina – "Beloved"
Dayana – "Divine"
Deborah – "Bee, industrious"
Deirdre – "Sorrowful"
Delia – "Belonging to Delos (a Greek island)"
Delilah – "Delicate, weak"
Della – "Noble"
Delphine – "Dolphin, woman of Delphi"
Delta – "Triangular landform"
Demetria – "Earth mother"
Demi – "Half"
Denali – "Great one"
Denise – "Follower of Dionysius (the Greek god of wine)"
Desirae – "Desired, wished for"
Destiny – "Fate or fortune"
Devika – "Goddess"
Devora – "Bee"
Diana – "Divine, heavenly"
Dina – Judged, vindicated.
Divina – Divine.
Dixie – Tenth.
Dominique – Of the Lord.
Doris – Gift of the sea.
Dottie – Gift of God.
Dove – Bird of peace.
Drew – Courageous, strong.
Drucilla – Strong, vigorous.
Dyna – Justified.
Related Articles: