We've shared several unexpected pregnancy stories, and even a few stories where older women have given birth…but we've never shared anything quite like this!
The 60-year-old women, Lilabai, went to the hospital in India, complaining of a stomach ache. Doctors admitted her, and, upon further examination, found she was pregnant with her fourth child. The woman, who had no idea she was pregnant, was then referred to Maharaja Yeshwantrao Hospital by the physician who originally examined her.
According to The Times of India, the doctors at Maharaja found that the woman had low hemoglobin levels, which is not uncommon for expectant women over the age of 50. In fact, there could have been a number of complications because of Lilabai's age – gestational diabetes, hypertension, placenta previa, miscarriage, low birth weight, premature birth – all pregnancy complications that increase with age. And there is an increased risk of infant mortality for Lilabai's daughter.
But, as it turns out, the delivery went well. Doctors were able to stabilize Lilabai before birth. And, according to Dr. Lakshmi Maru, head of the gynecology department at MYH Hospital, "patient and the baby are healthy."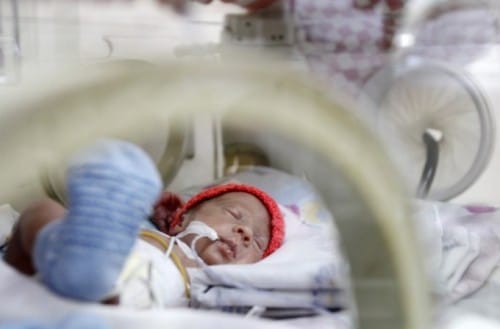 Other women who have given birth during their later stages in life include Wu Cheng, a 60-year-old Chinese woman who gave birth to two premature twins in 2010; Princess Lia Georgia Triff, wife of Prince Paul Philippe Hohenzollern of Romania, who gave birth to a baby boy, also in 2010; last year, a 66-year-old Swiss woman gave birth to a baby after travelling to another country for IVF treatments; Susan Tellfson, 57, gave birth in 2011; but the record goes to Omkari Panwar, another woman from India who gave birth to twins at the age of 70.
Related Articles:
---
[ad]