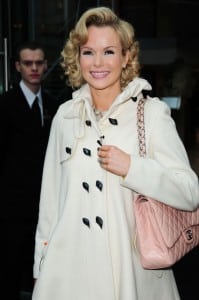 We are sad to report that Britain's Got Talent judge Amanda Holden and her husband Chris Hughes have lost the baby they were expecting.

The Daily Mail reports that the actress, who was 7 months along, was rushed to the hospital in West London on Tuesday when she noticed the baby wasn't moving.
Despite attempts by doctors the baby, a boy, was later stillborn.
Amanda's spokesperson Alison Griffin said:
'They are utterly devastated. Amanda had been closely monitored throughout her pregnancy and it is not yet known what went wrong.

'Both Chris and Amanda would like to thank the midwives and staff at The Queen Mary Maternity unit at West Middlesex Hospital Isleworth for their tremendous support.'
The tragic news comes just 9 months after the couple suffered a miscarriage in May. This prompted them to stay mum on the pregnancy until just a couple weeks ago.

In an interview with the News Of The World last month, Amanda spoke about her miscarriage for the first time saying,
'It was without doubt the blackest period of my life.

'I have such a charmed and lovely life and I just never imagined I would miscarry a baby. Never. You never think it might happen to you.

Something went wrong. I certainly wasn't expecting anything to but sometimes Mother Nature lets you down.

'I was an absolute mess. Poor Chris was too but he was amazing.'
Amanda and Chris are also parents to daughter Alexa, 5.  Our thoughts are with them.
Related Articles:
---
[ad]