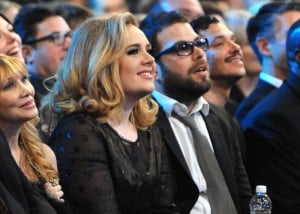 Adele and her partner, Simon Konecki, reportedly welcomed their first child together on Friday. The source that has shared the announcement says that she is "ecstatic" over the arrival of their bouncing baby boy.
"Adele and Simon are ecstatic at their new arrival," said the source. "She was over the moon that they were expecting their first child together."
However, Adele's spokeswoman has not confirmed the birth of a child.
"We are not releasing a statement at this time," the spokeswoman said. "No comment."
Of course, it's not unlike Adele to keep her private life private. Back in June, she finally released the official birth announcement.
"I wanted you to hear the news direct from me," Adele wrote. "Obviously we're over the moon and very excited but please respect our privacy at this precious time. Yours always. Adele xx."
The 24-year-old singer had started dating Simon last summer. The couple then moved in together earlier this year. And it would seem that Adele is "over the moon" for her beau as well.
"He looks after me," Adele has said of Simon. "I don't think I'd have got through the recovery from surgery if not for him."
Their bundle of joy will be welcomed by parents and a five-year-old sister – Simon's daughter with ex-wife Clary Fisher.
But a new baby and wonderful beau aren't the only exciting pieces of news for Adele. She just released a track last Friday for the upcoming Bond movie, Skyfall. She admitted to being hesitant about taking on the task at first, but after reading the script, she decided she was willing to take on the challenge.
Bond star Daniel Craig said that Adele was his first choice for the soundtrack.
"When Adele's name came up I just jumped at it. I just said, 'We have to get her,'" Craig said on a U.S. television show recently. "I just thought that she has the voice and she's got the tone that we wanted."
The tune, also titled Skayfall, is the first new music released by the singer since her multi-million selling album, 21.
Congratulations to the happy couple. We look forward to meeting the newest addition to their family!
Related Articles:
---
[ad]