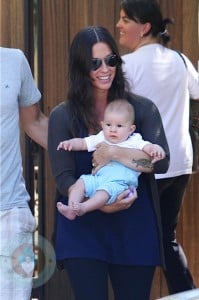 No matter how many books you read, no matter how many children you babysit, no matter how many movies you watch on parenting, no matter how many parenting stories you read or listen to, nothing can ever prepare you for the journey of motherhood. Alanis Morissette, multiplatinum-selling singer acknowledges this fact and shares how the birth of her son, Ever, challenged her in ways that she had never imagined with CelebVillage Celebrity blog.
In fact after she had her son she found that few mothers she talked to could accurately relay what life was like in the "postpartum" phase. According to Alanis, "They made the after-baby-is-born era sound somewhat idyllic, if they remembered it at all." So, having nothing more to really go on, she says that she created a fantasy of "bursting into blissful tears, buoyed by clouds and surrounded by cherub angels gushing how the lil' one's lips were his father's and his deep contemplative gaze mine."
Parenting wasn't the only thing that Alanis was unprepared for. Like all women, despite her efforts to prepare – mentally, physically and emotionally – for childbirth, it was so much more complex than she could have ever fathomed.
Reflecting on her birth experience, Alanis says,
"Perhaps there was a method to my huge oversight, a necessary judiciousness exercised for the sake of not being overwhelmed during the big lead-up to this new role. So I found myself lying there, stunned, humbled, overcome, reduced…the final push serving as a portal that hurtled me, irrevocably into this new uncharted territory and state that I had yet to wrap my Oxytocin-riddled brain around."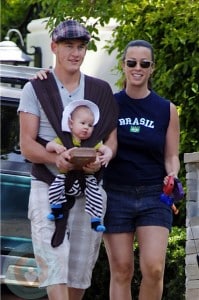 Just like other moms before her, Alanis' new life really didn't give her time to wrap her head around it all.
"I quickly came to see that life, hormones and the stunning wrecking ball that is a new family member don't really wait for Mom to wrap her head around much before they serve the new mind-boggling circumstance up. Biological and spiritual imperatives have their way of bowling over first, and asking questions later, if they ever circle back to ask 'em at all. There were no kids gloves here, pardon the pun. I had to buck up," she stated.
She also quickly found that all of life is changed through the birth of a new family member. The essence of who you are is changed. Life no longer bears a semblance to your former life of singlehood. Instead, it is replaced with a "new life [that is] infinitely better." But the changes, the growth; they are a process, a process that takes time. It was a journey that was all her own.
"This motherhood business was my call to rise to. And mine alone. And there was no doula alive that could have reached in and taught me what I have learned through experience," said Alanis. "There was no midwife would could show me how to grow up, warp-speed from complicated contemplative maiden to accountable matriarch. These things required months of growth and calibrating! And here I naively thought that I would arrive as MOM at the same time as my lil' boy arrived as a SON. The latter waaay preceded the former. But necessity precedes form sometimes."
Alanis said that she didn't go down without a fight though. She revealed that it took her nine months to reach the realization that life as she knew it would never be the same, but during that time, her journey as Mom pressed on.
"And so continued my ongoing journey of surrender, in the form of a sweet angle baby who required that I look alive, even if I didn't feel it. As the days went on, I could see that the less I fought what just WAS, the more I could breath," she said.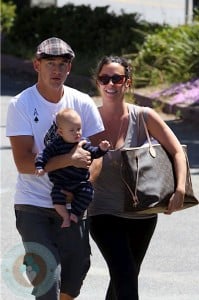 The singer also shares that her motherhood journey has helped her gain an appreciation for all mothers.
"My humility and reduction-to-knees has now found me wanting to kiss the feet of all mothers who have gone before me," said Alanis. "Since last December, I've borne holes through to the soul of any new mother who will indulge it, with a look that says: 'Yes, I am with you.' All this to say that I now look at mommas, whether their birth happened at home, hospital, field, tub, taxicab…anywhere, with or without epidural, exactly or couldn't-be-farther-from-their ideal picture of birth, and I bow."
In conclusion, Alanis shares the most confound and deep statement I think I have ever heard about becoming a mother – a statement that struck me to my very core, "See, I thought postpartum would be all about the birth of my baby," she says. "I had no idea the person I'd always dreamed of becoming was being born at the exact same time."
---
Related Articles:
---