Singer Alanis Morissette was all smiles this afternoon while out shopping with her husband Mario Treadway and son Ever.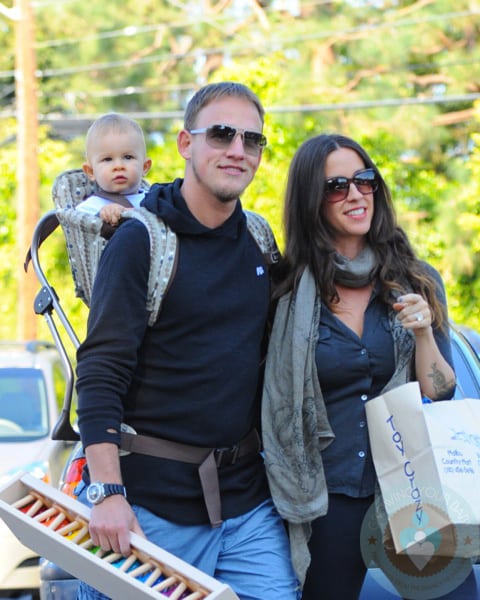 The family looked happy after picking out some toys for Ever at Toy Crazy in Brentwood.
Alanis recently shared her appreciation for marriage with iVillage for their blog series – CelebVillage.  Famous for her relationship struggles, the singer talked about what she was looking for in a partner and how she found that with Mario.
As has always been the case for me: be careful what you wish for. Now I find myself in a marriage where the rubber is at last hitting the road, where everything I had intellectually grasped is being asked for me to LIVE.
Her husband, she says, was worth the journey.
I thought getting married would be beautiful — and it is. I thought marriage would be hard — and it is. And I thought someone whose bones I would want to jump who also shared my new definition of marriage would be hard to find — and it was. But as my dear friend said to me during a particularly despair-filled moment, "You only have to find one." And I did. And I'm so grateful I kept the flame vision alive, and didn't give up before I met him.
Related Articles:
{INFphoto.com}
---