The U.S. Consumer Product Safety Commission (CPSC), in cooperation with ALEX Toys, of New Jersey, has announced a voluntary recall of about 91,000 ALEX Jr. Baby Builder, First Pops and First Snaps because small parts of the plastic toy building sets can detach, posing a choking hazard to young children.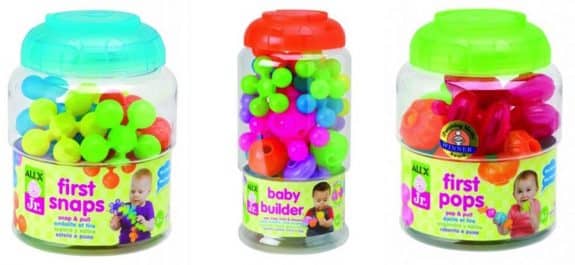 There have been 22 reports of the ends of small parts detaching from the building sets. No injuries have been reported.
This recall involves three ALEX Jr. branded sets of infant building toys, the Baby Builder, model 1982, First Pops, model 1981P, and the First Snaps, model 1981S produced prior to November 2010. The sets include an assortment of plastic shapes in bright colors. The pieces are designed to be pulled, pushed, snapped and twisted and come in stackable plastic jars. They were sold in sets of 14 and 26 pieces.
The recalled First Snaps sets' containers have the following batch codes, on a sticker above the UPC code on the container.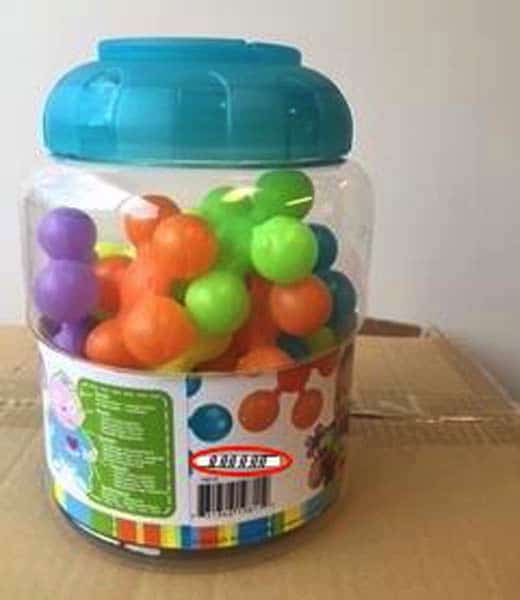 | | | | |
| --- | --- | --- | --- |
| P0002073 | P0001713 | P0001330 | P0000954 |
| P0002107 | P0001628 | P0001009 | P00000814 |
| P0001948 | P0001536 | P0001098 | |
| P0001677 | P0001427 | P0000983 | |
Consumers should immediately take the recalled building sets away from children and contact ALEX  toll-free at 844-310-6691 anytime or online at Consumer Product Safety Commission and click on the "Recall Information" link beneath the carousel for more information on how to receive a prepaid shipping envelope to return the product(s). ALEX will send consumers a full refund upon receipt of returned sets.
---
[ad]