Alexis Stewart, Martha Stewart's daughter has been open about her desire to be a mom.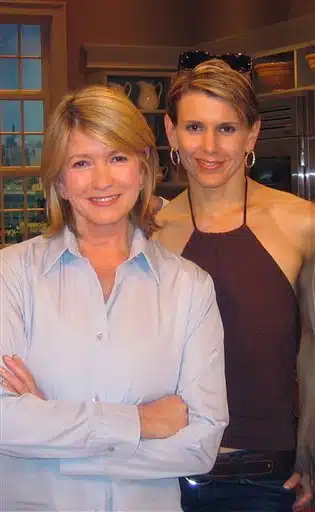 The 41-year-old daughter of Martha Stewart has been trying to get pregnant for two years – spending up to $27,000 a month in the last seven months alone to have a baby.
The divorced talk show host has wanted a baby since she was 37 but has been able to become pregnant.
"But when my mother got into trouble, I couldn't think about it," said Alexis, referring to the stock-deal scandal that sent the domestic diva to the slammer in 2004. "About two years ago, after all, that was over, I got back on track."
But getting on track came with a big price tag.
"I'm single now, but having my own kid is the most important thing in my life, so I am trying everything I can: fancy doctors, expensive drugs, high-tech procedures," she said. "Most people can't afford what I am doing, I am really lucky; I know that."
Alexis, who said she was opting for an anonymous sperm donor, told the magazine the first place she went for treatment cost about $10,000 a month.
"When I didn't respond to the drugs after three months, they basically said, 'Don't bother,' and kept asking, 'Why don't you use a donor egg?' Finally, I said, 'You're fired.' "
Since December, Alexis, now like her mom a Sirius Satellite Radio talk-show host, has been going to the New York Fertility Institute in Manhattan, where drugs cost $6,000 – and the doctors and in vitro fertilization procedures about $20,000 to $27,000 a month.
"They give me, like, eight times as many drugs than the other place did to stimulate egg production, then check me every two to four days," she said.
She said once a month she'll inject herself with a drug that causes her to ovulate in 36 hours.
"Just before the 36 hours are up, I go to the doctor's office and they put me under anesthesia and use an 18-inch needle to remove about 10 eggs," she said. "Then, I go home to my apartment in TriBeCa, change and get ready for my Sirius Radio show, 'Whatever.' "
The doctor, meanwhile, fertilizes the eggs, using a technique called intra-cytoplasmic sperm injection, which involves poking a hole in each egg and shoving a sperm in to create an embryo, she said.
"I'm using an anonymous donor, but not from a genius bank," she said. "Those are creepy."
After testing the embryos for Down syndrome and other anomalies, the doctor will try to transfer the healthy ones, she said.
"I've had two transfers," she said. "They haven't stuck . . . If there are no healthies, I try to let it go immediately, because you can go crazy. Crazy."
"I'm trying to build up a supply of healthy embryos because, ideally, I'd love to have two kids," she said.
Alexis divorced attorney John Cuti in 2004, explaining they were "completely ambivalent about kids."
"Now, I no longer have the luxury of having doubts," she said. "A child is your legacy. What better thing can you do in life than put a really good person in the world who's going to make it a better place?
"And my mom's just desperate. She has wanted grandchildren forever. Forever! She's always like, 'For my birthday, I would like you to be pregnant.' And I'm like, 'Me, too!' "
---