This month Amanda Peet gives Cookie Magazine a frank interview about motherhood and her crazy shopping habits. The part of the interview I enjoyed the most was how feisty she got about the subject of vaccinations.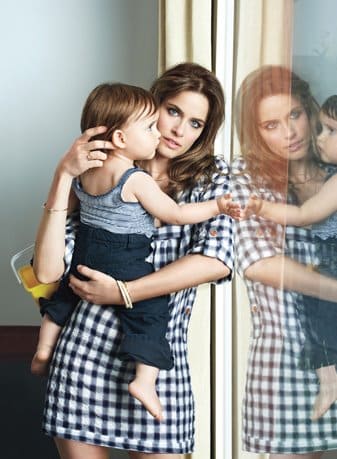 During her pregnancy, Amanda turned neurotic and began calling her older sister's husband, a Philadelphia pediatrician, "every five minutes" with all kinds of questions, especially about shots.
He arranged a series of phone calls between Amanda and his own mentor, Paul Offit, M.D., who is chief of infectious diseases at the Children's Hospital of Philadelphia, a co-inventor of the rotavirus vaccine, and a board member of Every Child by Two, a pro-vaccine organization cofounded in 1991 by former first lady Rosalynn Carter.
"Once we had spoken, I was shocked at the amount of misinformation floating around, particularly in Hollywood," says Peet, who quickly boned up on the hot-button controversies surrounding the topic, including the unproven link between certain vaccines and autism; the safety of preservatives like mercury-based thimerosal; and the fear that the relatively high number of shots kids receive today can overwhelm young immune systems. Her conclusion? Well, not only is Frankie up-to-date on her vaccines (with no staggering), but her mom will soon appear in public-service announcements for Every Child by Two. "I buy 99 percent organic food for Frankie, and I don't like to give her medicine or put sunscreen on her," says Peet. "But now that I've done my research, vaccines do not concern me." What does concern her is the growing number of unvaccinated children who are benefiting from the "shield" created by the inoculated—we are protected from viruses only if everyone, or most everyone, is immunized: "Frankly, I feel that parents who don't vaccinate their children are parasites."
For more of the interview please visit cookiemag.com or pick up a copy of the magazine
---
[ad]