When brothers Ryan and Leo arrived last Friday they caused a sensation at the Sana Hospital in Lichtenberg, Germany.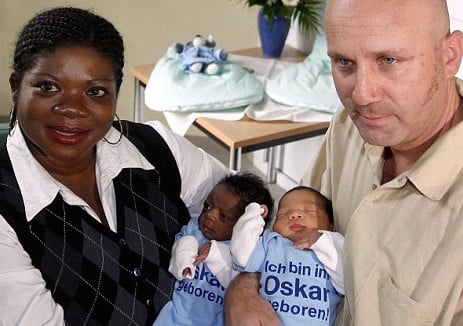 The fact that they one baby was black and the other was white caused guests to crowd around to greet the new arrivals.
For one twin to be black and one to be white is so rare that it is thought by medical experts to be a one in a million occurrence.
The new mom, Florence, 35, hails from Ghana, west Africa while daddy Stephan is German.
Although the couple were surprised by the children's different colourings the most important thing was that the babies were healthy.
Aside from having different skin colours, the twins are already showing that they have different personalities.
Light-skinned Ryan is described as a 'spirited' baby, while laidback brother Leo is a lot calmer.

Senior doctor Birgit Weber, who helped deliver the tots by ceasarean section, said that in 20 years of practice this was the first time she had seen differently coloured twins.
Related Articles: