I am loving the candid interviews that Angelina is giving while pregnant with her twins.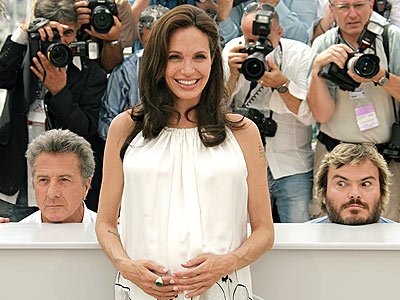 She recently spoke to Entertainment Weekly Magazine about some perks of being pregnant.
"It's great for the sex life. It just makes you a lot more creative. So you have fun, and as a woman you're just so round and full."
How will the couple handle 6 kids:
"We really don't know. His mom and dad are on standby to come out and help. And fortunately we can hire help if we need it, but we're going to try as we usually do to balance it as well as we can."
Jolie says the couple want to make sure their older children feel included after the babies are born.
"They're old enough to feel included to change diapers themselves, to feed bottles themselves, like if I pump into a bottle. We're trying to find ways where it can be a fun group thing," she says.
How does the couple define their relationship?
"We have that problem all the time," she says. "I say 'partner' sometimes. 'Father of my children' is too long. But half the time people refer to us as, 'So, your wife this, your husband that.' We've stopped correcting everybody."'
Recent Articles:
---
[ad]