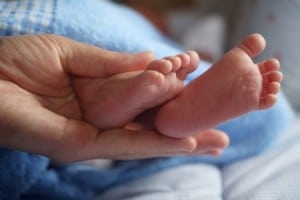 There are many different ways of knowing that you are pregnant -skipped periods, morning sickness, home pregnancy tests… But to find out you are expecting on the delivery day, is not what happens to most moms. Teresa Brown from New York though not only found that she was expecting right when she was in labor, she also thought that it was appendicitis that needed to be treated!
37 year old Teresa considers it a blessing that baby Andrew is in her arms. But five days ago she did not even imagine herself as a mom.
That was until terrible stomach cramps sent her to the hospital thinking that she had a bad case of appendicitis.
"I was having such bad cramps and pains, I didn't know what it was. We get to the ER and they do blood work and they tell me 'you are pregnant, you are in labor,'" recalls Brown.
45 minutes later, she gave birth to baby Andrew.
"It was just like a miracle happened."
The new and very surprised mom says that 15 years ago doctors had told her that she could never conceive and have kids. In the past few months although she now knows that she was pregnant, she did not have any of the telltale signs.
Her cycles according to her occurred normally and though there was a weight gain of about 10 pounds, she thought it was because of winter and she had not gone out and walked as much as she should.
"I just thought it was because (of) winter and I hadn't gotten out and done my walking yet."
Doctors estimate that Baby Andrews was born just two weeks early and is in perfect health despite Teresa not taking any prenatal medications or pregnancy care.
"I have my little boy, I have everything. It's gonna be wonderful…this is a blessing to me," said Teresa cherishing her new found joy.
---
[ad]