When parents Christine Pinter and Shane Sandner planned a pre-baby getaway to Sydney last week they didn't realize it would be a trip to remember.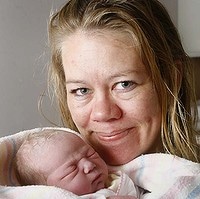 On the Saturday of their vacation, Christine, who was thirty-eight weeks into her pregnancy, enjoyed a relaxing message before she enjoyed a meal with her family. Later that night her contractions began around 3:00 am. By 6 am the family made the decision to cut their trip short after they intensified and take the train home.
Unfortunately, weekend track maintenance forced them to take a bus back. But it wasn't fast enough.
Two hours into their trip Christine's water broke forcing her partner Shane to deliver their baby on the bus.
"Shane delivered the baby on the bus – it was packed, there were only about 12 spare seats".
A passenger reported that the bus erupted with cheers as little Maddalyn made her entrance into the world.
Emergency crews arrived shortly after the birth and passengers again applauded as the paramedics transferred the proud new mother and new newborn daughter to the ambulance.
"They clapped as I got into the ambulance with a towel wrapped around me and I apologized to everyone on the bus".
To commemorate the rare location of her birth, Madalyn's birth certificate reads that she was born on the Pacific highway between Sydney and Toronto exit.
Baby Madalyn joins big sister 14-month-old Summa. – Jeff, Staff Writer
Related Articles:
---