Since welcoming our son at 24 weeks there has rarely been a day that I don't stress about his future. If you didn't know he was diagnosed with Autism, you may just think he's passionate about certain subjects, shy or fidgety. But for us we see an amazing kid that we think could really thrive if given the right skills.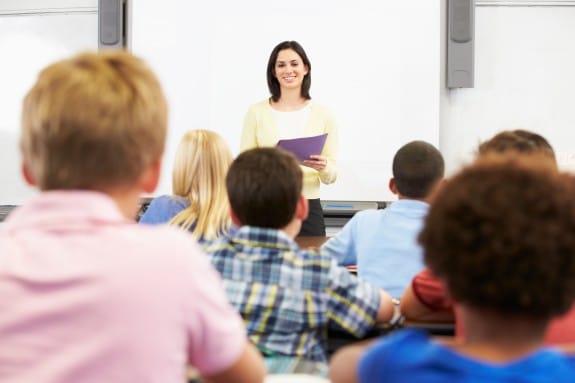 When my son was three he underwent a psychological assessment that recommended he be held back a year from his school start because of his developmental delays. He was born in August but wasn't due until the end of November, which meant that even if he arrived at full term he would always be one of the younger kids in the class. At the time our thought was to play it by ear and see how he did in pre-school and then ease him into big school, which seemed to work. He did well in Kindergarten but when he entered grade one a gap between him and his peers became evident. During our progress meeting at Christmas time, I learned that he was only doing 10% of the curriculum. I cried. He is on an IEP and I know his expectations are modified, but I wasn't prepared to hear that he was so far behind the other kids. The other problem we were having was that he was completely unfocused. He screamed a lot in class, called out when other people were talking, and was literally bouncing off the walls all day long. After many talks with our doctor, we made the decision to put him on medicine, which helped this significantly. But by the time we started to see the benefits of the medication, the school year was almost over. Thinking that it would be a great idea to hold him back so that he could re-learn the principles before moving on, I was told that because he was on an IEP his program could be adjusted to fit his learning pace.
In September of 2012, he started grade two. We really hit the jackpot when our son was given his grade two teacher. She was kind, patient, but didn't let him away with anything. This formula worked and he was starting to learn. But because he had only done a small percentage of grade one she had to catch him up. Four months into the school year she informed me that he was almost out of grade one and starting to do some of the grade two curriculum. While I was happy that he was moving forward, I couldn't help but think that it would be virtually impossible for a child who has learning issues to move into grade three after only doing half of grade two.
Just before the school year ended I contacted the principal and requested that we hold him back so that he could get a fresh chance to do grade two from start to finish. During the Summer between grade one and grade two, there had been such an improvement in him. He was starting to mature, and really beginning to learn about new subjects. I was mad at myself for not pushing the school harder to let him get good at grade one before sending him to grade two.
This time I was really going to push for this because I believed that with the right foundation he could really start to do well in school.
From the beginning one of the concerns the school had with holding him back was social. Would he feel left out that all of his friends had moved on and he was still stuck in the same class? We talked about it a bit and I was convinced that this wouldn't be an issue as he hadn't really connected to any of the kids in his class. Sadly, when I asked him who his best friends were at school he only listed a boy that he played within the schoolyard that was in grade one. The kids in his class were sweet and patient with him but they weren't people he would miss. He also loved his teacher so suggesting that he would have another year with her sweetened the deal for him. And realistically that was the only way it would work. Having him spend a second year with the same teacher so that she could fill in the blanks and ensure that he learned what he had missed the year before.
The second issue we had was that our school had never held a student back. Our school is relatively new and things are very different from when I was a kid. Now with IEPs kids just move through the grades and do what they can. The sad part is that when you do it this way the gap just gets bigger every year and by the time your child reaches grade 8 they may only be at a grade 5 or 6 learning level. I didn't want this for him. I really believe that a spark will happen and he will thrive.
Over the Summer he was a learning machine. We visited museums, historical sites, hiked and took road trips. He was retaining the information we were learning while visiting different places and was able to apply it to other destinations. I could already see him maturing. I was so excited about the year to come.
In September we lined up at the same portable we had lined up at the year before and my son was greeted by Mrs. N. He was happy and confident. I noticed a few parents whose children had been in his classroom the year before doing a second take when they saw him returning to the same class but I didn't care. In 10 years what they thought wouldn't matter. Our job as his parents was to help him succeed and that's what we were hoping to do.
Just a couple of weeks into the school year our plan hit a bit of a snag. There was one thing that I hadn't considered – the new kids in his class. For the previous three years, he had been going to school with the same kids he attended pre-school with. A couple of the kids were in his class three years in a row so they knew how quirky he was and didn't bat an eyelash when he acted out or was a little crazy. The new kids, however, weren't having it and often corrected him when he was having a moment. Realizing this the teacher spent some with them, while he was out of the room, explaining his special needs. After, I noticed that they were more accepting and willing to help him when he didn't understand something. Plus! We got our first birthday party invite this year!! That was pretty exciting.
This year he did more than he had in two years combined. He did tests, wrote out sentences, and had a part in the Spring French play.
So the big question is. Did holding him back work? I would say definitely yes. My son was still very immature at the beginning of the year and we have seen him grow SO much over the last 10 months. He is an excellent reader, is writing a lot better, and is also starting to grasp concepts that were foreign to him last year. His information retention is stronger and he needs less support from his EA.
The second big question is 'Will it work for your child?' I don't know. We just happen to hit on every point that would make this move successful. He is very small, does well with younger kids, and was truly starting to thrive. He just needed this year to solidify some of the lessons he hadn't completely picked up last year.
We have been told that this is a one-time thing and that is fine. We don't have plans to hold him back again. This was just something we had to do to give him a stronger foundation to be able to tackle what grade three has in store. If he continues to fall behind next year we will likely hire a tutor to work with him after school.
As parents of special needs kids, it is our job to look at our child and do what is best for them. They rarely fit into the box that most kids do so accommodations need to be made to help them thrive. My husband and I also really play to what he is strong at and foster that, while ensuring he is exposed to everything just in case new interests form.
Every decision we make is loaded with what-ifs and we are sailing through uncharted territory every day, but I think at the end of the day as long as we see him grow more and more each day we will be happy.