Starting your baby on solids is a fun and enjoyable experience, but doing so too early can have serious ramifications. At a minimum, the too-early introduction of solids may compromise an infant's nutrient intake, reduce the amount of time they spend nursing, and it can increase their risk of developing food allergies and obesity. Solid foods – even mushy ones – can also be a choking hazard for infants that are not developmentally ready for solids.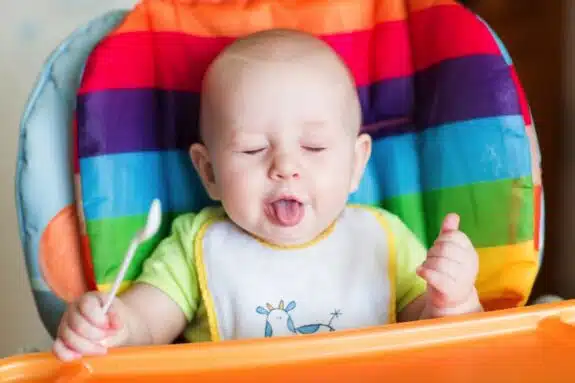 Sadly, it appears that over half of American parents introduce solids far too early.
Current recommendations from the American Academy of Pediatrics include exclusive breastfeeding for at least six months – no solids. The only other acceptable alternative is infant formula, which would be given in lieu of breastmilk as the infant's sole source of nutrition until they reach at least six months of age. After that, parents can slowly start introducing solids.
Led by Chloe M. Barrera, of the Division of Nutrition, Physical Activity, and Obesity at the National Center for Chronic Disease Prevention and Health Promotion at the Centers for Disease Control and Prevention (CDC) in Atlanta, GA, a team of researchers recently examined the feeding habits of 1,482 children aged 6–36 months to determine if the current guidelines are being followed. Household interviews, in which the primary caregiver was asked to divulge when the infant first received any food that wasn't breastmilk or infant formula.
Over half (54.6 percent) received a complimentary food before the age of six months. More specifically, 16.3 percent had received solid food before they reached four months of age, 38.3 percent were given solids between 4 and 5 months, and 12.9 received their first solid food at 7 months of age.
Babies who were breastfed for four months or less were found to be the most likely to receive solid foods before six months. That link remained, even after researchers accounted for other, various factors, such as the baby's gender, mother's age, or whether the mother smoked during her pregnancy. Previous studies have suggested that formula-fed infants may already have an increased risk of developing food allergies and obesity, which makes the early introduction of solids all that more concerning for this particular group of infants.
Researchers say they are highly concerned about their findings, but they recognize that some of the confusion could be related to changing recommendations. In the 1950s, parents were told their infants could have solids as early as three months. Experts pushed it back to four months in the 70s, but it wasn't until late in the 90s when the recommendation moved to six months. Parents have been struggling to follow the recommendation ever since.
"Efforts to support caregivers, families, and healthcare providers may be needed to ensure that U.S. children are achieving recommendations on the timing of food introduction," study authors said of the unsurprising but concerning data.
Upcoming changes to the federal dietary guidelines could help move things in the right direction as well. For the first time, the U.S. Department of Agriculture and Department of Health and Human Services will write federal recommendations for children under the age of two. The recommendation to wait until six months of age to introduce solid foods will be included in those new guidelines.
"[The] inclusion of children under 2 in the 2020–2025 Dietary Guidelines for Americans may promote consistent messaging of when children should be introduced to complementary foods." Barrera said.