The 26 weeker born during an ice storm earlier this week is said holding her own in hospital.
Dorotea entered the world Tuesday, 3 months early at Henry County Health Center. Because not all health care facilities are equipped to look after babies that are born this early, she needed to be transferred to a better hospital.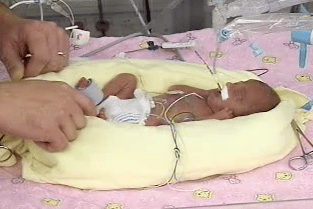 Under normal conditions, an ambulance or helicopter would have transported a special response unit to pick up Dorotea. But an ice storm made it difficult for the University of Iowa's Air Care helicopter and the ambulance to attempt such a dangerous trip.
Knowing the small community hospital in Henry County didn't have the facilities to treat the preemie, Mike Acarregui and John Dagle, neonatal doctors at the University of Iowa, took action.
"The community hospitals don't run into extremely preterm kids every day. When they do, it's really hard," Acarregui told ABC News. "They are used to having the support of a tertiary care center."
Acarregui grabbed a rescue pack and the two doctors drove Acarregui's Audi four-wheel-drive sedan to pick up Dorotea and bring her to Iowa City. Meanwhile, doctors in Mount Pleasant improvised their own resources, rebuilding a warming bed in an ambulance for the baby to use on the trip back to Iowa City.
Despite the lack of resources for extremely preterm babies, Acarregui said the community hospital staff saved the baby's life with its improvised and meticulous efforts.
While the doctors were in transit, the medical staff at the hospital was able to re-configure some of their equipment for this micro patient.
A respiratory therapist came up with a way to mix oxygen gas, so the baby would receive an appropriate oxygen level, even though the hospital did not have the usual materials to mix oxygen for babies. Another doctor at the hospital kept the baby's blood sugar up intravenously. Still others took a warmer bed from an ambulance, disassembled it, and re anchored it to stabilize it and properly fit the baby.
Preterm babies' lungs do not produce enough of a substance called surfactant, which is what prevents the lungs from collapsing every time you exhale. Preemies' lungs have a tendency to get stuck shut because of a lack of surfactant.
When the doctors arrived, they were most concerned about Dorotea's breathing. Acarregui and Dagle inserted a breathing tube into Dorotea. Acarregui put surfactant into the baby's lungs to help the baby breathe and treated her umbilical cord. Dagle used a hand-held ventilator to manually pump air into Dorotea's lungs during the entire ride. The tiny baby rode to Iowa City in her specially made warming bed.
Studies show that risk of death increases significantly when a preterm baby is born in a small hospital that does not have the specialized facilities and experienced staff for the tiny patients.
The baby is now receiving care at The University Of Iowa. Doctors have said that she currently has a brain bleed, which is common for these little fighters.
While many may think that this story is unusual, it is probably more common than most people know. The unbelievable transfer teams that work at major hospitals across North America save many of these small babies everyday. One of the babies we profiled last year was given a less than 1% chance by the team when they arrived at the hospital to transfer him. Not only did he make the trip, but he has gone on to thrive and develop like a regular 2 year old.
Related Articles: