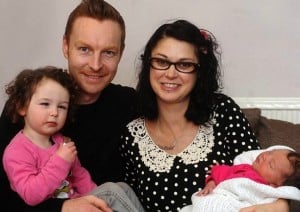 Sarah Plews had started feeling contractions the morning of December 4th. Because it was her second birth, Sarah knew it was time to head to the hospital. She arrived there around noon. But the midwives and hospital staff told Sarah that she wouldn't be giving birth immediately and that she and her husband, Dave, should go out for lunch, try to relax and come back to the hospital in a couple of hours.
So, upon the advice, Sarah, David and a care worker headed over to Caffe Gusto at the top of St. Michael's Hill for lunch. But little Ivy, who was eight days overdue, decided that she wasn't willing to wait.
"I felt the baby coming and me and my husband then tried to make it back to the hospital. But we didn't quite make it," Sarah said. "On the way back, the baby was coming out. My husband sat me in a doorway and that's where I gave birth."
Sarah's husband had gone back to the hospital to get help, and while one passer-by actually stepped over Sarah as she delivered, another woman named Lucy, stopped to help.
"[She was] on her way to the library. She stayed and chatted to me as my husband went down to the hospital. Midwives then came out of the hospital to us, along with an ambulance. They sorted me out, put me in a wheelchair and took me to the hospital. We were absolutely fine," Sarah stated.
Sarah and David say that they don't blame the midwives for the birth that happened just yards away from the hospital doors, saying that the midwives "fantastic." But she says that she did give them a bit of an "I told you so" when they arrived.
Sarah and Ivy were released from the hospital on Sunday and are now home, doing well. The couple has also asked for help in locating the woman, Lucy, who helped during the delivery.
Related Articles:
---