Today, 3½ months old Emersyn Grace-Ann Barent,  doesn't seem any different than other infants her age. But little Emersyn has already fought some major battles; battles that could have resulted in her death. Had it not been for a rare medical procedure, her parents wouldn't have been able to hold and snuggle her as they do today.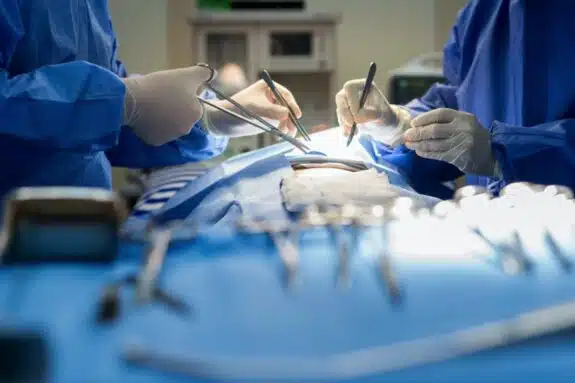 At 24 weeks gestation, it was revealed that Emersyn had a rare bladder obstruction. The condition was found during an ultrasound that was encouraged by her OBGYN, despite the fact that Tonya, the baby's mother, had just received one four weeks earlier. The details of why the physician wanted the second ultrasound were not disclosed, but without it, the Barents might have lost their daughter.
The day after the ultrasound, Tonya went to see Dr. Roger Wallace, a maternal-fetal medicine specialist with the St. Vincent Physician's Network. Dr. Wallace performed an in-utero procedure, a vesico-amniotic shunt placement, which included the placement of a stent to help drain urine that was collecting inside of Emersyn's abdomen because of the blockage.
While Wallace says that the procedure is very simple, it is also very rare. Only 1 in 100,000 births have complications that are similar to Emersyn's. Additionally, Billings, where Tanya and her husband, Cody Barent reside, hadn't had the technology to perform this procedure until just recently.
"With our situation, if we would have had to get to Denver or someplace else, with the rapid rate she was failing, she wouldn't be here today," Tonya stated.
Ten days after the procedure, Tonya received another ultrasound to see how her little girl was doing. To their surprise, little Emersyn was captured holding the recently placed shunt in her head.
"She kind of showed her spirit from the get-go," said Dr. Wallace. "We looked at those results, and there she is, waving with that stent in her hand."
Another stent was placed and eleven weeks after the first surgery, little Emersyn was born. Unfortunately, her battle wasn't quite over yet. Emersyn was also born with two holes in her heart for an unknown reason. These were corrected shortly after birth.
Finally, after spending 60 days in the neonatal intensive care unit at the Rocky Mountain Children's Hospital, the little figher was released home to join her parents.
"It's a miracle, it honestly is," said Tonya. "But now there's really nothing different about her." And while this may be true, her parents know the truth – in the words of her mother, "she's such a little fighter." That she is!
Related Articles:
---