When little Prayan Sharma was born, his parents were only concerned about his health. He had an infection and had to be transferred over to the neonatal ICU for treatment. But, ten days later, when he was doing better, Prayan was united with his mother, Nikita Sharma, so she could breastfeed. It was then that she made a shocking discovery.
"When he was eventually re-united with my wife and she tried to breastfeed him, she noticed something in his mouth," the baby's father, Harish Sharma, told The Sun.
That something was seven teeth, all on the bottom.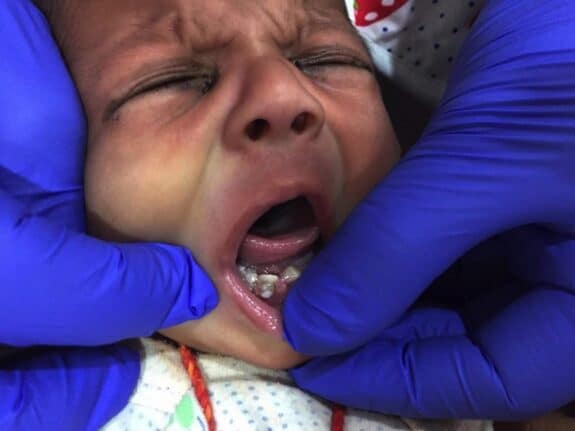 "We were completely surprised," Harish said. "We never knew a baby could be born with one tooth never mind seven teeth."
And, unfortunately, those teeth created some breastfeeding issues, so the parents consulted with a pediatric dentist. He, too, was apparently shocked by the sheer number of teeth.
"This is a first of its kind it's rare that babies are born with one tooth but never seven teeth," Dr. Meet Ramatri, the dentist who treated Prayan, told The Sun.
But this is not actually the first case of multiple natal teeth. In fact, we've covered a few stories on natal teeth, including one baby who was born with twenty-eight teeth!
No one knows exactly what causes natal teeth, but it is estimated to occur in about one in 2,000-3,000 live births. Some cases may indicate maternal malnutrition or certain health conditions, but those are rare. Instead, most are benign and simply strange situations that no one really understands.
One thing is clear, however, and that is that natal teeth can place a baby at risk – especially if they start to come loose. Babies can choke on them, inhale them, or even damage their own tongues. Breastfeeding can also become more difficult when natal teeth are present. As such, most are removed. Such was the case with little Prayan's teeth.
"The teeth had to be removed to avoid any risk to the baby swallowing or choking on them," Dr. Ramatri said. "The procedure was done under local anesthesia as he was too young to be given any regular anesthesia."
It took two total procedures to remove them – four teeth in the first procedure and the rest during a second operation. Baby tolerated both and is hopefully now nursing much better, thanks to the removal of his teeth.
---