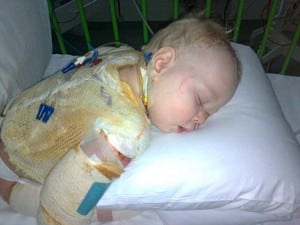 It is hard to believe that a small burn the size of a 10p coin could be life threatening. But 10 month old Alexander Caven-Atack gave his parents many scary nights after he almost died when a small drop of hot tea fell on his skin.
Little Alexander had accidentally knocked over a mug of hot tea last September. Most of the hot liquid fell on his dad Andrew but some scalded his skin on the rib cage.
Andrew said, "He grabbed the mug and tipped it over him and over my bare legs. I ran with him to the kitchen and took his clothes off straight away."
The scald was the size of a small 10p coin and doctors at the Colchester General Hospital's Accident & Emergency Department treated him. But what went ignored was that Alexander had developed a bacterial infection known as Scalded Skin Syndrome- a one in a million chance.
Five days later Alexander's skin was peeling off from the face, back and arms. His scared parents rushed to the burns unit at Broomfield Hospital in Chelmsford. Doctors began removing the scalped skin and warned that the little baby might not survive the procedure.
Andrew said, "The delay in diagnosing Alexander meant that the doctors had to remove skin already infected as well as administering high doses of antibiotics. He spent two weeks in Intensive Care whilst they continued to remove infected skin and change his dressings under general anaesthetic. He was bandaged and we were presented with this little mummy with just his thumbs and one big toe showing. Because he was so immobilized they gave him a catheter and fed him by tube."
The baby boy had 80 percent of his skin removed over a period of fifteen days. Doctors performed a total of six operations.
 "They left the skin around Alexander's eyes, like a bandit mask, but they had to remove the top layer of skin from more or less all of his body. He was very quiet. If he was in pain he certainly wasn't yelling about it. By the time he was diagnosed, Alexander was so badly affected that external creams and antibiotics weren't enough so they wrapped him in an antiseptic suit to recover. It was awful," said the father.
Sarah spent two weeks in the hospital with Alexander as he inched towards full recovery.
"Our normally smiley baby didn't smile once in those two weeks. The consultant told us that Alexander only survived because he had an inherently strong constitution and he had been fed a good high-protein diet prior to his ordeal," said Andrew.
Although their son is now back home the parents are still scared and wish to warn other parents so that they do not go through the same trauma.
"We are very happy that Alexander survived but we want to use his ordeal to ensure the next child doesn't go through what he went through. He really could have died."
Andrew says that any child under five who suffers burning or scalds should be taken to the doctor. If his skin is peeling off it might be the signs of the deadly bacterial infection.
His local GP in Colchester, has promised extra checks on scalded infants under the age of five and Andrew hopes the same protocol is followed by other doctors too.
A spokesman for Colchester Hospital University NHS Foundation Trust said,
"If Mr Caven-Atack has concerns about any aspects of his son's care at our A&E Department, we would encourage him to contact us as soon as possible so that we can investigate.

"Our dermatology department has no knowledge of any protocol that has been developed by the family's GP but we would be interested to hear from this particular doctor."

Ross Carroll, whose charity Prevention Town heads up a hot drink awareness campaign, said, "The child would have died if he had not got to the burns unit. It is really alarming it wasn't diagnosed before."
The incident just shows how a simple day to day accident can turn into the worst possible scare. With young kids, parents do need to be cautious all the time.
Related Articles:
---
[ad]