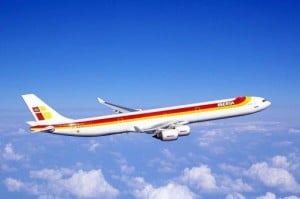 There was some excitement onboard a flight headed to Madrid on Friday when a mom-to-be went into labour.
A 6.6-pound baby girl was born after a quick delivery during an Iberia Airbus A319 flight from Malabo, capital of Equatorial Guinea.
In a statement the airline said the birth occurred during the flight at 3.30am Spanish time (0130 GMT), just over two hours after take-off.
Luckily for the labouring mom, a midwife, paediatrician and doctor happened to be aboard and were able to help with the delivery of the girl.
"It is true she was very lucky," said an Iberia spokeswoman when asked about the presence of qualified medical personnel aboard.
Iberia recommends pregnant women not fly after 36 but cannot ban someone. This mom-to-be was flying under special circumstances as she was traveling to Madrid to attend a funeral, the company's rep said.
The girl was the fifth baby to be born on an Iberia flight.
Related Articles:
---
[ad]