A four month old baby girl is lucky to be alive after the stroller she was riding in was mistakenly dragged almost 100 feet under a truck.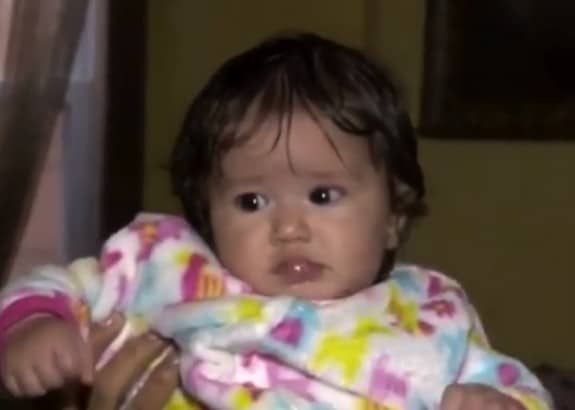 Anna Rivera was out for a stroll with her daughter on Tuesday when tragedy struck.  The mom was pushing her daughter Ivianah Figueroa's stroller along Merrimack Street in Boston, when the buggy got caught on the stepladder of a truck as it turned right.
"(The truck) took the stroller right out of my hands and dragged it," said Anna Rivera. "I ran. Ran after it. I didn't know what to do. I was afraid that he was going to keep going."
The driver had no clue that the stroller was stuck to his truck and he continued to drive until another driver successfully stopped him and rescued the baby.
Eyewitnesses tried to catch the truck driver's attention by honking their horns and waving or screaming. Anna ran to the truck and started pounding her fist on the back to get it to stop.
Tim Melvin, another driver,  was finally able to get the truck to stop by driving in front of him and blocking his way.
"He (the truck driver) had no clue what was going on. He thought I was being a jerk," said Melvin, who was out doing errands. "When I drove around the truck to stop it, I hesitated because I didn't want him to drive forward. I just wanted him to stop before the baby fell off."
Melvin, a father of two, told news crews it was shocking for him to see the baby being dragged like that.
"All I could think of was that poor baby," he said. "I was horrified and sick to my stomach about the whole thing. I thought that baby was done."

"Her mother was hysterical and in shock," Melvin said. "I picked up the baby and tickled her chin to make sure she was fine."
When Officer Jeffrey Sapienza arrived on the scene mom and baby were taken to hospital immediately so that the infant could be checked.
Anna says, "I just cried and cried and felt like I was having a panic attack."
She adds that she was out walking in the biting cold because her car broke down two weeks ago. To protect Ivaniah from the cold she had bundled her up with layers of warm clothing and wrapped her in blankets. It was likely this protective clothing that saved the baby from any major injuries during the ordeal.
Anna says that the incident could have been avoided if the sidewalks were clear of the snow.
"If the sidewalk had been cleared, this never would have happened,'' Anna said. "They have to think that not everyone has a car and they have to make it accessible for people.''
Mayor Daniel Rivera said the city has an ordinance requiring owners of homes and businesses to clean the sidewalks in front of their properties. But as there are no fines or other ways to enforce this ordinance, most ignore it. After this incident, he hopes something stricter would be done about it. Since then, the sidewalks in the neighborhood have been cleared.
Melvin, who ultimately was able to stop the truck, has been deeply affected by the incident.
"It was pretty scary," he said. "If something had happened to her (the baby), I would have been in the hospital or the nut house."
The police however says that no charges will be filed against the truck driver as eye witness account prove that it was not his fault.
"I was shocked and relieved because it could have been worse," said Fitzpatrick, adding people should avoid walking in the street as much as possible.
Meanwhile the baby girl back home and safe in her mother's arms is being showered with lots of hugs and kisses from mom Anna.
---
[ad]