Alex Jones, 21, was 24 weeks pregnant with her second child, a little boy, when her water suddenly broke. Immediately, she was rushed to a maternity unit at the nearby Prince Charles Hospital. It was there that she was given the horrible news – doctors couldn't find a heartbeat; her son would be born stillborn.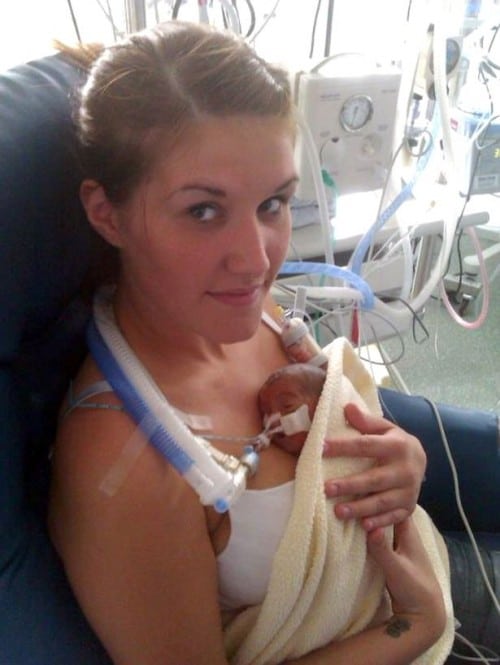 For the delivery, doctors transferred Alex to Singleton Hospital in Swansea. It was here that Alex delivered what she thought would be a dead baby with her mother, Sonia, holding her hand.
"I was utterly heartbroken," said Alex. "Me and mum were talking about organizing a little plot for him and where he would be buried."
But something amazing happened during that delivery, and Alex's mother was the first to notice.
"I saw his little legs first because he was breach when he came out," Sonia said. "I heard a little groan and then I saw his toes wiggle. I thought I was imagining it at first. I told the midwife and then she realized he was breathing. Suddenly, ten doctors were in the room working on him. They resuscitated him and then whisked him away…We never expected it after being told by the doctors they couldn't find the heartbeat and there was nothing they could do."
And Sonia wasn't the only one shocked after the little boy's birth.
"I really thought I was going to be arranging his funeral when he was born," Alex said. "But when he was born, my mother who was with me noticed he sort of groaned and she saw his tiny toes wriggling. Even the doctors and nurses were calling him a miracle baby."
But the little boy's fight was far from over. He was very premature, weighing only 1lb and 11oz at birth, and he was very weak.
"We were told not to get our hopes up because he was [doing] very poorly," Sonia said.
But Alex spent every moment by her son's side. It would be two weeks before she could even hold him for the first time. His feedings were given by drip, and he would need a brain surgery to remove a life-threatening blood clot from his brain. His heart would also be monitored for the next five months as he battled a number of infections. But the little boy, whom was named Cohan, wouldn't give up.
Cohan now weighs 14lbs, 9oz. He has just celebrated his first birthday.
"I have to pinch myself that he's here at all," Alex said. "I thought he was a child I would never be able to hold in my arms. But look at him now. He is a very happy baby and a little boy who really fought for his life. It's such a relief to see him smiling. Even the doctors can't believe how well he is now. We are not blaming anyone – his heartbeat must have been so weak the doctors were unable to detect it. All that matters is that Cohan's alive. I will always think of him as my miracle baby."
Related Articles:
---
[ad]