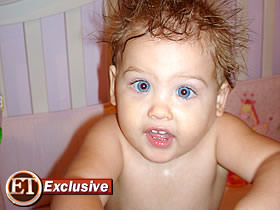 ET ONLINE has some exclusive shots of Dannielynn and daddy Larry Birkhead.
"Every day she does something new, and now she's sharing her bottle with me," Larry tells our own MARK STEINES. "So if I say, 'Give daddy a drink,' she'll toss it over her shoulder. It's cool being a dad."

The former boyfriend of the late Anna Nicole and the father of her baby came out to the big Hollywood premiere of 'The Bourne Ultimatum' Wednesday night with his nephew, and said that the requirements of being a new dad are almost the same as being a super spy.

"If Matt Damon drops out of the next movie, maybe I'll be available," he jokes. "I've been punched and kicked and slapped by my daughter, so I'm in defense mode. She's using me as a teething ring."

But there was one hitch on the way to the red carpet: "She actually spit up on my jacket I was going to wear, so I had to take it off and do a quick change."

Dannielynn is going to have her first birthday in September, and Larry says he's weighing his options for the special day.
---
Those eyes look like they've been photoshopped, but you know after looking at her daddy that they haven't been…
Related Articles:
SOURCE
---