Brad Pitt and Angelina Jolie were spotted over the weekend treating their oldest kids Pax, Shiloh, Zahara and Maddox to a performance of Wicked in London.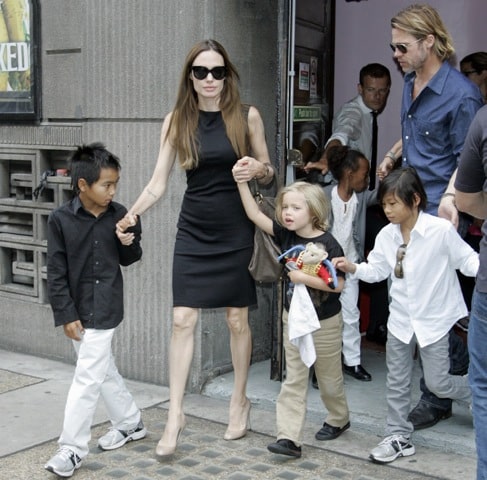 Angelina has been very busy taking the kids to shows while Brad's filming his new movie World War Z.
During a recent interview with the Financial Times she revealed that she's looking to act less and direct more.
"As Brad and I get older we're going to do fewer films.  I've been working for a long time, he's been working for a long time, we've had a nice run and don't want to be doing this our whole lives. There are a lot of other things to do."
Famous for their globetrotting ways, the actress told the magazine they don't plan to settle in one place because "Home is wherever we are."
"I'm very bad at staying in one place," she elaborated. "I'm also bad at sitting still. I was a terrible student at school. But there's so much to explore in the world, so I love travel. If you can travel I think it's the best way to raise kids."
The kids, however, love to travel the world.
"They are all learning about each others' cultures as well as being proud of their own. So it's not like just the boys get to do the Asian thing," Jolie dished. "They all have their flags over their beds and their individual pride. We owe Vietnam a visit, because Pax is due. Z wants to get back to Africa, and Shiloh, too. So everyone takes their turns in their country."
---
Related Articles:
{INFphoto.com & PACIFIC COAST NEWS}
---
[ad]