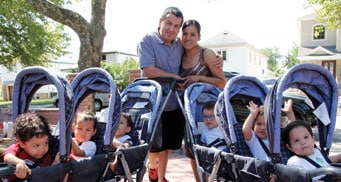 TLC has announced that a new family is moving in!

On September 14th "Sextuplets Take New York," will chronicle Victor and Digna Carpio's journey through parenthood.

On October 6th, 2008 the couple welcomed Justin, Jezreel, Joel, Jaden, Danelia and Genesis at 25 weeks gestation weighing between 1-1/2 and 2 pounds. For the last 2 years the family has struggled with raising the babies (50 diaper changes a day) and their 9-year-old son in a modest-sized home.
Nancy Daniels, TLC's Senior VP production and development said the network cast the family after doing a special on three sets of parents struggling with a multiple birth.

"We fell in love with them," she said. "All of our shows look at interesting families and interesting live. They're struggling with taking care of a lot of small children who are all the same age and overrunning their house."

According to TLC the show will revolve around raising seven kids on a budget, plus staying healthy and active.
Related Articles:
---