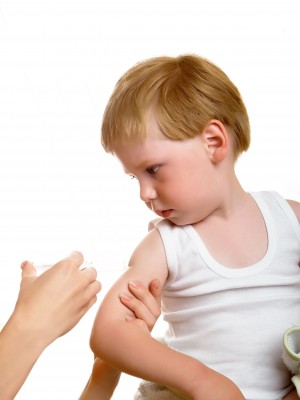 The Centers for Disease Control and Prevention announced today that Sanofi Aventis is voluntarily recalling 800,000 doses of pediatric swine flu vaccine in prefilled syringes because routine tests disclosed that its potency has diminished.
The alert about the recall was issued this morning, noting that the vaccine was fine when it was shipped, but its potency apparently faded during a month of storage.
Anne Schuchat, director of the CDC's National Center for Immunization and Respiratory Diseases, says there's no reason for parents to worry, because demand for the vaccine is so great that the doses were most likely administered before its potency faded.

"There's no need for parents to call pediatricians. We think the doses given are protective and safe," Schuchat says. The manufacturer is now notifying health providers who received the affected lots to discard the syringes, meant for children from 6 to 35 months of age.
The agency recommends that children in that age group get two doses, about a month apart.
Injectible vaccine is licensed to be stable for 18 months, while the nasal spray should last for 18 weeks. Seasonal flu vaccine is typically dated to expire in June of the year after it was produced, but Shuchat says that "month to month" its potency may drop, but usually not enough to limit its effectiveness.
---