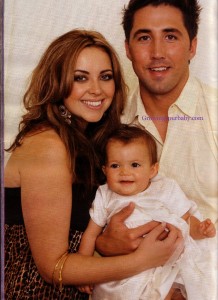 Charlotte Church and Gavin Henson share their daughter's christening with family and OK Magazine.
The event, which was low key, was attended by just 20 friends and family.
During an interview, that took place before the christening, the couple spoke about expecting baby #2, pregnancy cravings and Ruby.
Here are some highlights:
To Gavin: Were you shocked to find out baby #2 way on the way?
A little bit. We didn't plan for it to happen, but I am really glad it did. We like being young parents, so if we're planning on having quite a few then we needed to be started!
Pregnancy Cravings?
Actually just nice fresh salads, which is better than lasagna which is what I craved last time! Lasagna and spaghetti bolognaise.
Now that Ruby is Nine Months old, how is she doing?
She is such a good baby – she sleep from 8pm to 8am. She's and angel. I think that's why we've had another so quickly.
How do you think that you'll cope with two really young children?
C – All we can hope for is we have another one like Ruby. G – When Charlotte was pregnant with Ruby, everyone was say your life's going t0 change, it's going to be hard, but it's been Brilliant. Now they're saying: "Two under the age of two – it's going to be even harder." I guess we'll have to see.
---
---
[ad]