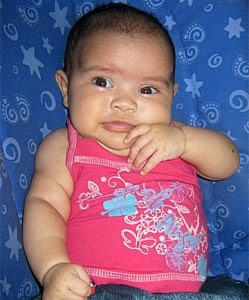 The recent death of little Serenity Jay Scott-Dinnington has prompted a warning from Child Matters about the risks to young children when an unrelated adult is living inside the home.
Matthew Ellery, the man charged with Serenity's death, was living inside the home at the time of her death. He was the boyfriend of Serenity's mother, Chelsea Scott, but he was not related to the baby. Psychologists have dubbed this case as yet another display of the heartbreaking 'Cinderella Effect.'
"International research has consistently concluded that children living in homes with unrelated adults are at much higher risk of injury or death," stated Amanda Meynell, Academic Services Manager for Child Matters. "Parents need to be aware of these risks and have appropriate supports in place to reduce any risks to their children."
Meynell also warns that the 'Cinderella Effect' applies to more than just step-parents living in the home.
"The name Cinderella Effect implies this increased risk only applies to step parents. However, the research shows that any non-related adult in the home increases the risk to the child," Meynell stated.
So just how high are the risks? According to a study conducted by the School of Medicine at the University of Missouri, children living with unrelated adult are almost 50 times more likely to die of inflicted injuries than children who live with two biological parents or a single parent.
The Deakin University School of Psychology in Australia found that children under the age of five living with one non-biological parent were 77 times more likely to die from a domestic violence-related injury than children who live with their biological family. Children living with neither biological parent (such as a foster parent situation) were 102 times more likely to die from violence-related injuries. Yet, even children who lived with only one parent and no unrelated adults were no more likely to die from violent or unintentional injuries than children who lived with two biological parents.
Why does this happen? Meynell says it that part of it has to do with the attachment to the child.
"When you're talking about unrelated adults being in the home, that attachment's not so great, they don't have the relationship, they may not have been there since birth with that child and so they pose a great risk," Meynell stated.
But that doesn't mean that all unrelated adults are dangerous or hurtful to children. I have a blended family and I know that my children are safe with my husband, but it took time, getting to know him, the kids getting to know him, before he was a part of our family. This approach is exactly what Meynell recommends to parents when it comes to introducing a new adult into the family…any adult.
"For any parent, including single parents, the introduction of any unrelated adult to the home must be carefully considered and the risks taken into account," Meynell said. "Boarders, friends, anyone that you have that's not related to that child. Be really careful about that, make sure that you believe that that's a safe person to be around children."
It's important to never assume that someone who 'seems nice,' or 'gets along well' with you or your child is safe. Sometimes, an abuser is the last person you would suspect.
Additional information to help parents keep their children safe can be found at Child Matters. The site also offers information for any parent that suspects that child abuse might be an issue with another adult in their home.
Related Articles:
---
[ad]