Parents please check your cabinets to ensure you don't have a bottle of recalled children's cough syrup.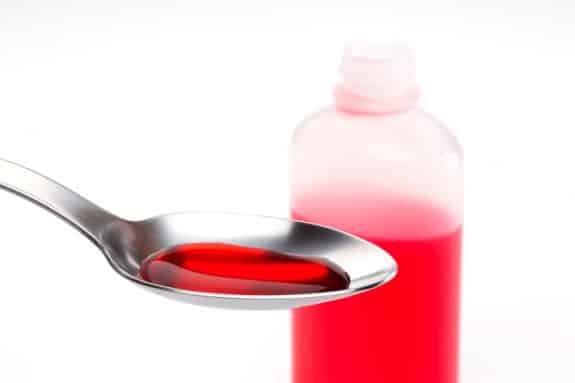 Perrigo Company announced today that it has initiated a voluntary, nationwide product recall to the retail level of 2 batches of its children's guaifenesin grape liquid, 100mg/5 mL, and 3 batches of its children's guaifenesin DM cherry liquid (100mg guaifenesin and 5mg dextromethorphan HBr/ 5 ml) sold in 4 oz. bottles with dosage cup in a box under the store brand products listed below. The recall by their dosing cup supplier is being initiated because of the potential that some packages contain an oral dosing cup with incorrect dose markings.
Consumers that have products with the corresponding labels and batch numbers listed below should discard the dosing device and product. Consumers should contact their physician or healthcare provider if they have any questions, or if they or their children experience any problem that could possibly be related to this drug product. Consumers with an adverse event that may be related to the use of this product, should call 1-800-538-9543.
Recalled lots, along with their corresponding branded labels, are listed below:
GUAIFENESIN GRAPE LIQ 4 OZ
Label               Lot Number              Expiry
H.E.B.              5LK0592                  08/2017
CVS                 5MK0340                  08/2017
GUAIFENESIN DM CHRY LIQ 4 OZ
Label                     Lot Number                                    Expiry
Sunmark              5LK0528, 5LK0630                      03/2017
Rite-Aid                5LK0528, 5LK0630                     03/2017
Topcare                 5LK0528, 5LK0630, 5LK0779  03/2017
Kroger                   5LK0528, 5LK0630                     03/2017
GoodSense           5LK0528                                        03/2017
Dollar General    5LK0630                                        03/2017
Care One              5LK0630                                        03/2017
CVS                       5LK0630                                        03/2017