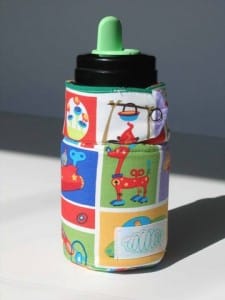 When we switched over from plastic to stainless steel water bottles, I noticed 2 things. The bottle got warm quickly and it perspired all over my diaper bag.
The Cocoozy battles my two pet peeves, while turning our Kleen Kanteen into a chic drink holder.
The Klever Kover ($18) fits the Klean Kanteen 12oz. sippy like a glove, but will also nicely fit any of the Born Free bottles (large and small) and most other available widenecks. The clever design incorporates a unique sequence of snap closures that allows you to customize the cover to fit your favorite bottles!
The core of the Klever Kover is neoprene, a material that provides excellent insulation. It keeps our beverages chilled for hours after they are taken out of the fridge.
I put this to the test the other day when I left the Kanteen in the truck covered with the Cocoozy while out grocery shopping. When we returned to the truck 2 hours later I was surprised that the water was still cold – not out of the fridge cold, but chilled none the less.This is nice for parents who are going out for the day and want to keep their beverages cool for a bit.
The other plus is that my son is able to hold onto the kanteen after it's taken out of the fridge. Without the cover, the whole things gets slippery and tends to slip out of his hands.

Cocoozy also makes bottle covers for many BPA free baby bottles.
The Klever kover is available in 4 patterns(shown above).
Please visit Cocoozy.com for more information
---