One Montana couple is seeing double for the third time after mom, Tiffany welcomed her THIRD set of twins last week!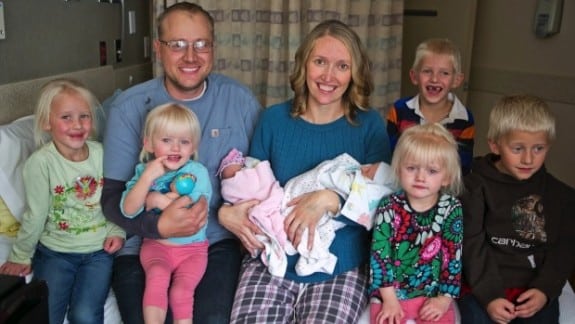 Tiffany and Chris Goodwin of Three Forks thought their van was going to be big enough for their family, but they were wrong.
Last week, 32-year-old Tiffany gave birth to her third set of twins, Carter and Olivia, bringing the family's total to 9!
The babies join seven year-old Mason. 5-year-old fraternal twins Josh and Eliza, and 2-year-old identical twins Emalynn and Brielle.
And while there may be other women who have given birth to 3 sets of twins, Tiffany may be the only mother in the U.S to do so after a kidney transplant.
What's life with so many 7 kids?
"It's really chaotic with twins. The first year is the hardest and it's a blur. Then, after that, they play together," Tiffany told the Bozeman Chronicle, describing the family circus that ensues when they go to Costco.
"We have two carts. Everyone asks us if all of them are ours or some say, 'Are you done yet?'" she laughed. "It's been a surprise every time because it's natural…this is our final set. We're done, not gonna go for number four."
"Surprised every time," said Chris, 34. "I'm really happy about it. We get a lot of support from family… and the hospital has been great."
"It's a lot of work. We were really thinking just one more would be great. So I had a panic attack the first day finding out. I was freaking out. I was, 'Oh my gosh, we've changed our car every single time we've had a kid.' So we finally get an eight-passenger van and now (Chris) can't ride with me," she joked.
How rare are three sets of twins?
"One in a million. It's very rare. I really don't know the statistics but it's very unusual," Susan Connell, manager of the hospital's birth center told the Chronicle. "We have about 20 sets of twins a year here at this hospital and now we've got a mom with three sets. It's awesome — and healthy babies, which is really awesome."
---
[ad]