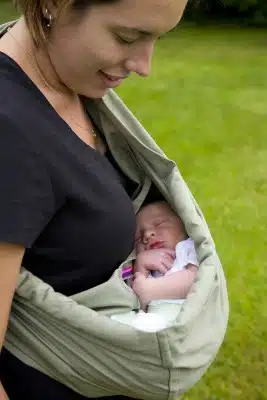 The CPSC is set to issue a warning, likely to go out this week, about baby sling because of concerns of suffocation risks linked to them.
While speaking to the Juvenile Products Manufacturers Association, an industry trade group that certifies certain children's products, head of the Consumer Product Safety Commission, Inez Tenenbaum didn't single out any specific baby slings but said there have been complaints for a couple years now.
"We know of too many deaths in these slings and we now know the hazard scenarios for very small babies," said Tenenbaum. "So, the time has come to alert parents and caregivers."
In 2008, Consumer Reports raised concerns about the soft fabric slings and some two dozen serious injuries, mostly when a child fell out of them.
Another concern is that the baby can turn its face toward mom's chest or belly and smother in the parent's clothing.
Tiffany Speck, a nurse who sells her own baby carriers, has been warning about slings where the baby falls into a chin-to-chest position in the classes she teaches at hospitals, stores and doctors' offices.
"You wouldn't want to put a baby in there," Speck said during an interview with The Associated Press. "The baby is curling, head toward toe, and what happens is the baby occludes its own airway."
She recommends that babies in slings remain in an upright position, with the baby's tummy facing mommy's tummy.

Recent Baby Carrier Recalls:

---