One of the most luxurious SUVs on the planet, the Cadillac® Escalade™ is the vehicle of choice for the stylin and profilin! Because kids love to be just like their parents, Fisher-Price created a mini version for the trendiest little ones. While on vacation on Allure of the Seas a couple of weeks ago my boys had a blast whipping around the sports court on the Power Wheels vehicles Royal Caribbean had on board. So we thought this would be the perfect toy for whipping around the neighborhood – and it is!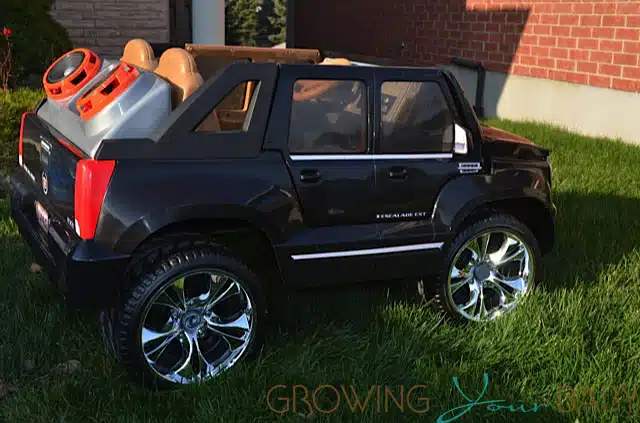 If the Power Wheels Escalade is on your list for the Holidays I suggest putting it together before the big morning. When you open the box and start to pull out all of the pieces it does appear that the install will be more complicated than it is. But rest assured, there are a lot of steps, but not one of them is complicated. To make this easier Fisher-Price only uses 2 sizes of screws, with the bigger size only being used once. From start to finish it took me two hours to install including decals. This time could have been reduced significantly if I didn't have two excited kids sitting on top of me the whole time. I also couldn't find our power drill so I manually screwed it together, which also extended the time.
Additionally, if you are installing it when your kids are around you may want to take the battery out of the box the night before and charge it so it will be ready when the truck is put together.
Once together, this truck is pretty sweet! Just like its luxury counterpart the Escalade has 'chrome' 13″ wheels and grill, seats that resemble leather and a kickin system! There is room for two riders, which makes it perfect for a sibling team that may have younger one who is not able to drive themselves. This is also good if you have two kids and only one vehicle as they can take turns driving but always be in the truck enjoying the fun.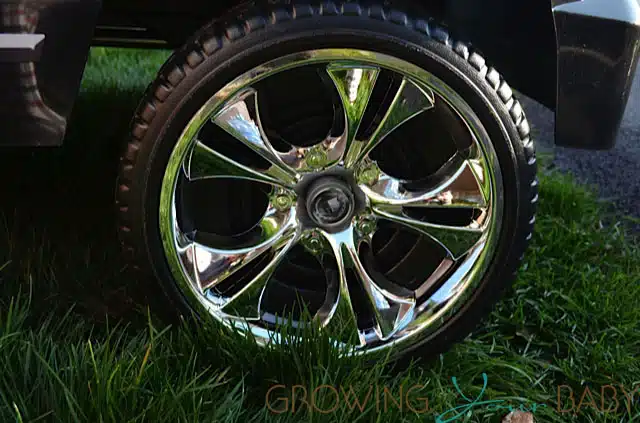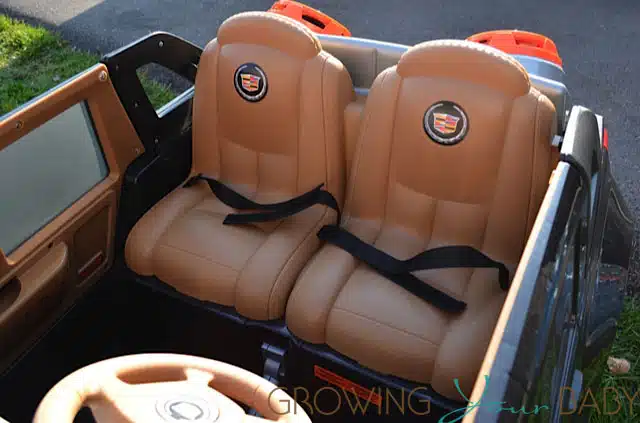 Likely the biggest of the Power Wheels collection, the Escalade measures 34″ wide, 30″ high and almost 60″ long. This posed a bit of a challenge for us because I put it together inside the house and then realized it was too big to fit through our door. In order to get it out of the house I had to stand it up and turn it 90 degrees, which was quite humorous to watch.
Once on the street the kids were at full speed in no time with their music blaring. The Escalade Ext has two speeds 2.5 MPH and a zippy 5 MPH. There is, however, a learning curve with power vehicles and your kids WILL run into curbs, each other, and possibly random people. If this is a concern for you the vehicle comes with a high-speed lockout to keep it running at low speeds. When you think your little one is ready for more, you just simply remove the screw in the handle located between the seats.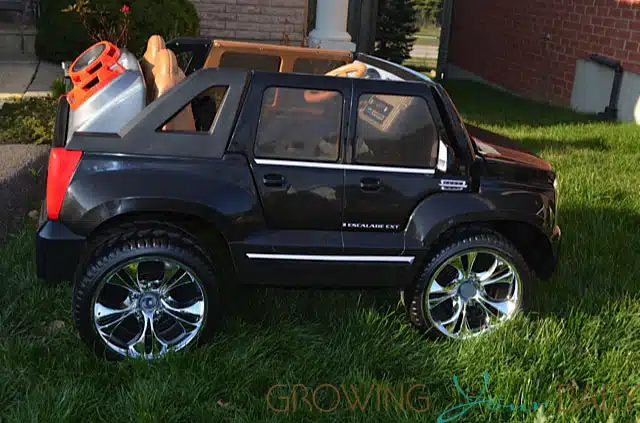 I can see why this car is such a popular item for Fisher-Price. A definite departure from the usual animated character themes that are often emblazoned on kids' products, the Escalade is sophisticated with quite a large community online that shares photos of custom or 'suped up' versions.
My kids are completely in love with theirs and enjoy touring the neighbourhood in it while listening to the radio.
Likes:
Stylish
Seats 2 riders
Has a radio
Improvements:
I would like to see Fisher-Price add some rubber to the tires. The vehicles sometimes has trouble getting traction on the street and often 'fish tails' when the kids stop too quickly or take off at high speed. Working lights would definitely be a nice touch as well.
If you asked my boys, however, they would tell you their Power Wheels Escalade is perfect. They think its cool when it slides after they stop.
---
"Disclosure: I am a Fisher-Price Play Ambassador and I receive special perks as part of my affiliation with this group. The opinions on this blog are my own."
---