Following up on his very successful 'food fight' collection with CYBEX in 2013, the Creative Director from fashion house Moschino, Jeremy Scott is about to launch a second collaboration. The tagline for this collection could not have been chosen more adequately… 'adults suck then you are one'. The quote, Scott says, was taken 'from the Great American Philosopher: Bart Simpson.'
In early previews of the collection one theme is prominent – gold wings, a signature piece for the designer.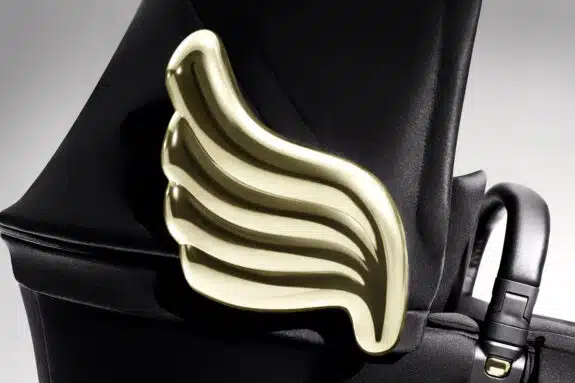 "I've done wings in so many variations over so many years," Jeremy told CYBEX. "From the very start of my collections there have been wing-like elements, from dresses and bustiers to jeans and, of course, later to my wing shoes. Freedom is what I express most: the wings are the ultimate expression that anything and everything is possible!"
His goal for the new collection? To 'capture your imagination, with the contrast of the unexpected!'
From the limited images that Cybex has released, we can see that the gear will have a black matte finish with gold details.
When asked what direction he was going in with the new collection Scott explained,
"I wanted to show a contrast from the colourful and graphic first-season stroller set and pull ideas from a different part of my design vocabulary. This time I decided to do a rendition of my iconic wings in gold. The wings have a soft deco feel, and curve as well as volume, which make them look almost plush. I felt the perfect way for these wings to shine was to pair them with black – and just let all the details in the stroller, like the spokes of the wheels, go gold, so the gold can really sing!"