Animal lover Denise Richards brought her girls Sam & Lola out on Sunday to support the Best Friends Animal Society at their annual adoption event in LA.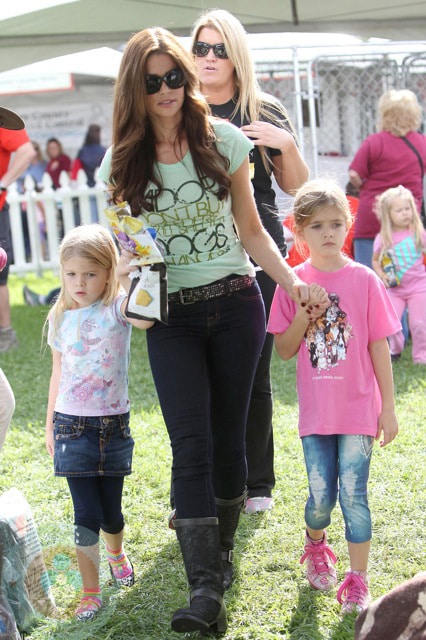 While wearing a pro-adoption t-shirt, the actress visited some of the rescue agencies set-up and posed with the animals.
The event brought together 51 animal rescue and shelter organizations to help find some of the abandoned birds, rabbits, cats and dogs new homes.
The Best Friends Animal Society has an animal sanctuary at Angel Canyon, at the heart of the Golden Circle of national parks in southern Utah, that is home on any given day to about 2,000 dogs, cats, and other animals, who come from shelters and rescue groups around the country for special care.

This amazing organization relies on their expert staff of veterinarians, trainers and caregivers to give the animals with special physical or behavioral needs the help they require.
Most of them are ready to go to good new homes after just a few weeks of special care.  A few, who are too old or too sick, or who have suffered extra trauma, find a home and haven at the sanctuary, and are given loving care for the rest of their lives.
---
Related Articles:
{PACIFIC COAST NEWS}
---
[ad]