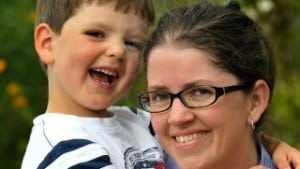 Roy Barake suffered from uncontrollable seizures from the early age of four months. By the time he was four years old, he was having 80 spasms a day and the only solution that finally helped save him from the devastating condition was removing part of his brain.
The pre-schooler, who lives in Melbourne,  suffered from epilepsy known as infantile spasms. The condition is also associated with neurological and developmental problems.
Assoc. Prof Andrew Kornberg, the Royal Children's Hospital's director of neurology said, "It's rare, but it's a devastating type of seizure disorder."
Roy's mom Tina recalls how it was a complete shock for the family to learn of their first born baby's condition.
"That was a big shock for a first-time parent. You expect your child to be fine and all of a sudden this happens," she said. "It particularly affected my husband, Adrian. He was really saddened to see something take over Roy."
Every time Roy suffered a seizure he would go pale, his body would contort and he would be very upset after each fit.
"I felt helpless, I didn't know what to do," said Tina.
Although Roy was given medications that provided temporary relief, doctors could only plan a surgery after they pin pointed the exact location of Roy's brain that caused the seizures.
The Barakes were forewarned that Roy could lose some of his vital functions after the operation. The frontal lobe in the brain is responsible for higher mental functions, personality, speech and movement. In Roy's case doctors found this area to be the cause of seizures and needed to remove it.
The procedure was conducted at the RCH by director of neurosurgery Wirginia Maixner and children's epilepsy program director Dr Simon Harvey. They cut away half of the frontal lobe in a extensive operation, but avoided the motor pathways so movement on the right side of Roy's body was not affected.
Thankfully the amazing little boy recovered well and tests show that his brain functions have not been affected.
"We thought that our child might not even be able to say our name or sit up, we are really blessed to have this outcome," Tina said.
She says that he is like any other kid his age and is now looking forward to leading a blessed life.
"He knows the words to all the AFL songs and he is looking forward to going to his first game with his dad," Tina said. "We are just thrilled. He's also planning to start kindergarten next week."
Roy has had no seizures for more than one and a half years.
Related Articles:
---
[ad]