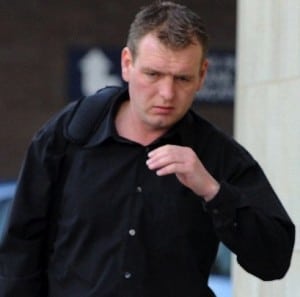 Days before his wedding day, groom-to-be Christopher Dixon went out with his friends for his stag party – nothing unusual about that. What is unusual is that Dixon brought his 17-month-old daughter along for the ride, and forgot her.
Dixon downed 12 bottles of lager that night and drunkenly staggered home, forgetting about his daughter, leaving her in her stroller. He was so out of it that he didn't even remember leaving her. When he awoke the next morning, he just assumed that he had left his daughter with a friend. It wasn't until he went to the friend's house to retrieve his daughter that he realized that she was actually missing.
Thankfully, 18-year-old Joel Redhead came along. He found the little girl at 3:30 in the morning and took her to the local authorities.
"I was so shocked…it's something I'm not going to forget," Redhead stated.
When Dixon found his daughter, he asked the officers not to tell his fiancée, as if that would be the worst of his problems.
That, however, was the least of his worries. Dixon had to face legal action for his irresponsible behavior that night. He was tried and pleaded guilty to child cruelty last week and was heavily reprimanded by the judge.
"It is almost unbelievable a person could be so irresponsible," stated Judge Michael Mettyear. "You drank so much you forgot you had this child with you. It is absolutely shocking. I'm quite satisfied that in normal circumstances you are a loving father of this child."

"And I hope that now you are sober, you are shocked by this behavior as other people will be," Judge Mattyear added. "There could have been terrible consequences by what might have happened if a thoroughly decent man had not happened upon her and taken her to safety. If it had been somebody else, goodness knows what might have happened."
The mother has been released from any liability for that night's instances, but Dixon has been sentenced to six months in prison, two years of parole and 150 hours of community service.
His fiancée was a little more forgiving, apparently, despite Dixon's fears. While the wedding has been called off and the couple cannot live together until a care meeting for the child has been completed, they continues to see each other.
While I'm pretty sure that Dixon's actions were far from intentional, the fact remains that something serious really could have happened to his daughter. I'm not so certain that I would be as forgiving as his fiancée if it were my daughter…
Related Articles:
---
[ad]