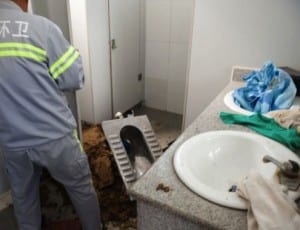 Pregnant women go to the restroom often, so it's a surprise that witnesses noticed the pregnant woman heading into a public restroom in the Zhaoyang District of Beijing, China. But notice her they did.
Witnesses say that the pregnant woman had asked her husband to wait for her outside of the women's restroom. While he waited, she delivered her baby, hovering over the toilet. Upon delivery, the infant dropped into the toilet and it may have fared very well, but then the unthinkable happened. Somehow, the newborn was accidentally flushed down into the toilet's pipes before she could retrieve it.
The new mother, frantic, alerted her awaiting husband to the horrible news. He called the authorities and emergency workers responded to the call.
You can just imagine the desperation that the workers must have felt when they dug up the toilet, only to find that the infant could not be seen. But they didn't give up. They tore up the floor of the public restroom and finally found the infant, fifteen minutes after their arrival.
Mother and baby were transported to the hospital. No word was given on the condition of the mother, but the infant is currently in critical condition.
Back in 2006, a similar incident occurred. A 19-year-old woman in Jiang S had accidentally flushed her infant down into the septic system. Emergency workers were able to retrieve this infant as well and the baby made a full recovery…We hope this infant fares just as well.
Related Articles:
---
[ad]