As expected, Evenflo Company, Inc., has initiated a voluntary recall of select convertible car seats and harnessed booster seats due to the harness crotch buckle. In their press release the company notes that the buckles, which meet all requirements for crashworthiness, may become resistant to unlatching over time, due to exposure to various contaminants (like food and drinks) that are present in everyday use of the seats by toddlers. This condition may make it difficult to remove children from the seat. This U.S. recall involves seats that were built between 2011 and 2014, including select Momentum, Chase, Maestro, Symphony, Titan 65, SureRide, SecureKid, Snugli All-in-One and Snugli Booster models. The affected convertible car seats and harnessed boosters can continue to be used to transport children safely, if the buckles are functioning normally and do not demonstrate unlatching issues. Evenflo has received no reports of injuries to children in connection with these buckles.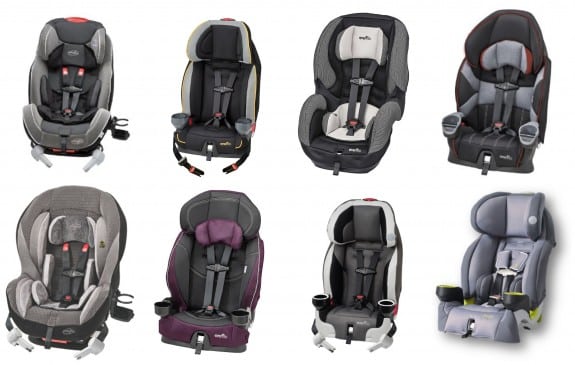 Evenflo is taking this action to address an issue that was recently observed by the National Highway Traffic Safety Administration ("NHTSA") in connection with Graco Children's Products, Inc., which initiated a recall in early February 2014 for the same buckle issue.
As previously mentioned Evenflo uses the same manufacturer for their buckles as Graco, and was included in NHTSA's investigation when they were made aware of the issues consumers where having with their seats.
The company is sending a consumer notice to registered owners of the affected seats to inform them of the action, and is working with retailers to ensure that impacted convertible car seats and harnessed boosters are no longer available for sale.
Evenflo will also make available a free remedy kit to consumers that includes a replacement buckle and instructions for installing the new buckle. Owners should visit www.buckle.evenflo.com or call 1-800-490-7591 to identify if their seat is affected and to order the remedy kit.
The company wants parents and caregivers to know that this recall does not affect the integrity of the seat. The convertible car seats and harnessed boosters affected by this recall are entirely crashworthy, so they may be used while consumers wait for replacement buckles. Individuals experiencing difficulty unlatching affected buckles before their remedy kit arrives should clean buckles to allow them to function properly. Instructions for cleaning can be found at the dedicated website listed above.
Affected convertible car seats and harnessed boosters include only the following model number prefixes: 306, 308, 310, 329, 345, 346, 371 and 385, and fall within the dates of manufacture listed below. The model number and date of manufacture can be found on a white label on the back of the seat. Consumers are urged to visit www.buckle.evenflo.com to confirm if their seat is impacted.
Model Number Prefix
Model Name
Affected Dates of Manufacture
Momentum 65, Momentum 65 LX and Momentum 65 DLX
385
3/4/2013 through 8/26/2013
Chase, Chase LX and Chase Select
306
6/12/2012 through 10/3/2013
Chase LX and Chase DLX
329
8/23/2011 through 3/3/2014
Maestro and Maestro Performance
310
8/22/2011 through 10/17/2013
Symphony 65, Symphony 65 E3, Symphony LX, Symphony DLX, and Snugli All-in-One
345 or 346
10/2/2012 through 8/26/2013
Titan 65 and SureRide DLX
371
6/20/2012 through 10/17/2013
Secure Kid LX, Secure Kid DLX, Secure Kid 100, Secure Kid 300, Secure Kid 400 and Snugli Booster
308
12/13/2011 through 3/3/2014
"Safety is Evenflo's number-one priority," says Scott Weiss, Evenflo's CEO. "With many of us being parents ourselves, we design, engineer and rigorously test our products with the goal of truly creating a safer more peaceful ride for both children and caregivers. Despite our best efforts, sometimes issues arise during everyday use, even after products have passed all federal safety tests. It is with an abundance of caution that we voluntarily recall these seats, and we are working closely with the National Highway Traffic Safety Administration to ensure parents are alerted."
The company requests that U.S. consumers of affected seats contact Evenflo for a free remedy kit by visiting www.buckle.evenflo.com or calling 1-800-490-7591 between 8 am and 5 pm ET, Monday through Friday. Consumers are urged not to return seats to retail stores.
---
[ad]