The Evenflo Company, Inc. announced today that they are recalling certain Transitions 3-in-1 Combination Booster Seats, model numbers 34411686, 34411695, and 34411029, produced from December 18, 2014, through January 29, 2016 because the central front adjuster (CFA) button that is used to loosen the seat's internal harness may be within the child's reach, allowing the child to activate the CFA and loosen the internal harness.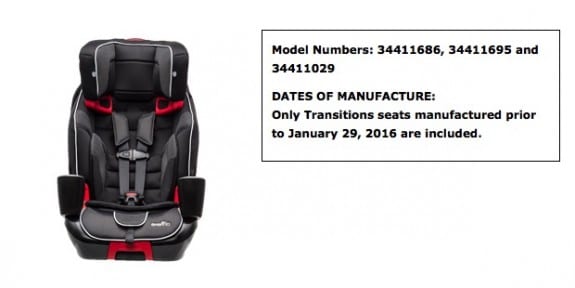 The recall was issued after a the company identified that a handful of consumers had reported a child-occupant loosening the Transitions harness by accessing and activating the CFA.
If the internal harness is not tightened snugly around the child, the child would be at an increased risk of injury in the event of a crash.

Evenflo notes that to provide proper restraint in the first mode–the forward-facing harnessed booster mode–the Transitions' internal harness must be tightened to fit snugly around the child. To loosen the Transitions harness, a caregiver must activate the Central Front Adjuster (CFA) button on the front of the seat and simultaneously pull out on the harness straps. While seats with an internal harness are typically equipped with a CFA, the Transitions is the only Evenflo seat which allowed a child enough access to activate the CFA and simultaneously loosen the harness. Without a snug harness restraining the child, the potential for injury in a crash increases.  No injuries have occurred as a result of this condition.
To determine if your child's seat is included in this recall and to order a remedy kit, please provide your seat's model number and date of manufacture here or call them at Evenflo's ParentLink Consumer Resource Center at 1-800-233-5921, Monday-Friday, 8:00 a.m.-5 p.m. Eastern Standard Time. Please do not return your child's Transitions seat to retailers.
Before receipt of your remedy kit, Evenflo asks consumers to pay attention to whether their children are accessing the CFA area. The vast majority of children do not show an interest in gaining access to this area. If your child is not accessing the CFA area, then there is no risk of the CFA being activated, and the Transitions seat may be used safely in harnessed mode until your remedy kit is installed. If your child is accessing the CFA area prior to your receipt of a remedy kit, then your Transitions seat still may be safely used in either high-back or no-back belt-positioning modes with children at least 40 pounds and 43.3 inches. If your child does not meet the size requirements for use of Transitions as a belt-positioning booster and is also gaining access to the CFA area, then please discontinue use of the seat until the remedy kit is installed.
---
[ad]