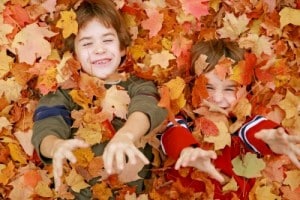 Bright-colored leaves, jumping in piles of leaves, steamy bowls of soups, harvest vegetables, airborne ragweed, mold spores, cold and flu season, asthma flare-ups….wait!?
Yes, fall is here. You can see it in the changing colors outside. You can feel it in the wind. You can also hear it in your asthmatic child's lungs. Flu season is full of allergens that aggravate asthma and the cold and flu season just compounds the problem. It is during this season that researchers say that prevention is key.
The wheezing, coughing and trouble breathing that you hear from your child is a result of inflammation, tightness and swelling of their airways. Often the airways become inflamed, tight and swollen when they come into contact with a virus or with an allergen. But your child is not alone.
Nearly 6.3 million children in the United States alone have asthma. It is considered the most common chronic childhood illness – an illness that lands a lot of children in the emergency room during the fall season.
"Year after year, we see a predictable spike in patient visits for asthma exacerbations in fall and winter, but many of these visits could be easily avoided with simple prevention," says Dr. Robert Wood, director of allergy & immunology at John Hopkins Children's Center.
Experts shared three tips that they say are key in preventing asthma flare-ups for children in the fall:
Controller medications – children that have asthma flare-ups twice or more a week should take controller medications, which can help reduce flare-ups and help suppress inflammation in the airways.
Flu shots – taking your child to get a flu shot can help prevent flu virus infections (and complications from the flu), which pose a pretty big risk for asthma flare-ups.
Triggers – experts say one of the best ways to avoid flare-ups is to avoid triggers. Triggers can include chemicals, cockroach and mouse allergens, airborne allergens, smog, bacterial infection and viral infection. (Of course, some of these are easier said than done.)
Dr. Elizabeth Matsui, a pediatric allergist and immunologist, also at John Hopkins Children's Center added, "Over the summer, many patients have fewer asthma symptoms and cut down on their controller meds, but for most kids, symptoms will return with the change of the season, so reverting to their regular drug regimens is critical."
Related Articles:
---
[ad]