Famous New York City toy store FAO Schwarz is celebrating their 150 year anniversary with a nostalgic look back at some of the toys that have shaped childhood for more than a century.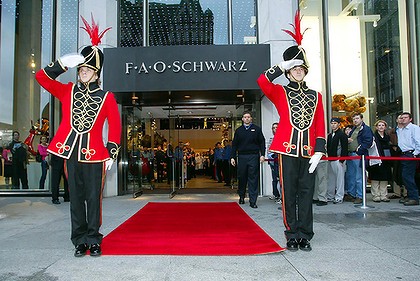 Throughout 2012, the company will honor its rich heritage with in-store events, commemorative product offerings and a showcase of brand archives that together will present the brand's storied history. Now through April 10, FAO Schwarz invites visitors to its New York City flagship store to step back in time at its one-of-a-kind in-store gallery filled with classic toys and brand artifacts.
FAO Schwarz has taken pride in its reputation for offering high-quality and innovative toys for children.
"Founder Freerick august Otto Schwarz created his beloved store 150 years ago as a theater for the industry to showcase items in a way that would engage consumers, while introducing them to new products from all over the world," stated Lisa Harnisch, the Senior Vice President and General Merchandising Manager for Toys "R" Us. "From the original baby carriage to Steiff teddy bears to the first-ever Nintendo Entertainment System, FAO Schwarz has brought thousands of unforgettable toys to market, evolving from a purveyor of extraordinary products to a must-see retail destination,"
Also listed in the gallery are some of the most beloved toys of childhood: the Easy-Bake Oven, Crayola Crayons, Silly Putty, Cabbage Patch Dolls, Mr. Potato Head, Little People toys, the Etch A Sketch, G.I. Joes, Monopoly, Hello Kitty toys, Hot Wheels Cars and more. Many of these toys are still loved and played with today, just in more updated models.
Schwarz is also putting their sales ledger, which stands 20-inches high and 14 inches wide, on display along with FAO Schwarz Catalogs that date between 1928 and 2011.
Related Articles: