Award-winning actress Salma Hayek and celebrity TV chef Ellie Krieger are teaming up with the National Milk Mustache "got milk?®" Campaign to launch The Breakfast Project to help more Americans enjoy breakfast at home and be sure to set the table with milk. The goal is to makeover America's mornings so families can have a more nourishing and delicious start – which can have a powerful impact on the rest of their day, and even their lives.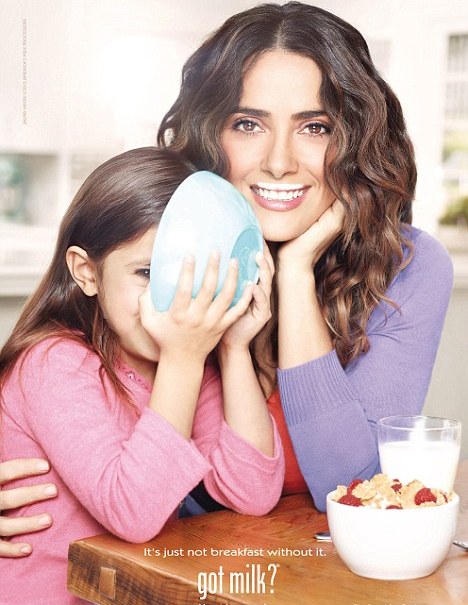 "My days are always super busy, always very hectic, and I have to juggle so many things at the same time, but I wouldn't dream of skipping breakfast," said Hayek, who unveiled her new milk mustache print ads and TV commercials today to kick off The Breakfast Project. "I recognize how valuable it is to begin the day with a healthy breakfast that includes milk. It's a special time that I can share with my family, and I feel good that my daughter is getting the best start possible to her day."
Salma will be the face of the multifaceted and bilingual campaign, where she will appear in two TV spots, directed by award-winning Hollywood cinematographer Wally Pfister, that will begin airing nationally on February 27.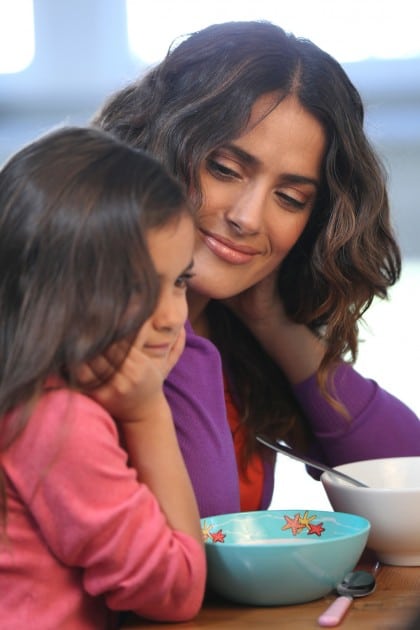 In the ad that was released yesterday the actress shares the spotlight with her daughter Valentina. While promoting the campaign she spoke about how they get the day started at their home.
"I make sure that my family has a nutritious breakfast every day," Hayek said. "We often keep it simple with cereal and milk at breakfast, or sometimes we have some fun and make smoothies with milk and fruit. As long as my daughter has that glass of milk, I know that she's getting calcium, protein and other nutrients to help her be strong, focused and ready for the day. Plus, I make sure she sees me make healthy choices in the morning, too. I'm trying to be a positive breakfast role model."
Salma will appear in three print advertisements that will run beyond 2012.
---
Related Articles:
---
[ad]