Sometimes the journey is more important than the destination.  But in the case of a Texas dad, the journey will be something his little girl will cherish forever.
Iram Leon has Grade 2 Diffuse Astrocytoma, a terminal brain cancer.  But that didn't stop him from running the 2013 Gusher Marathon in Beaumont, Texas on Saturday.  Not only did he run the 26 mile race, but he did it while pushing his 6-year-old daughter Kiana in a stroller.  And what is better – the determined dad won with a time of in 3:07:36, which was a full six minutes better than the second-place finisher, Jerod Honrath.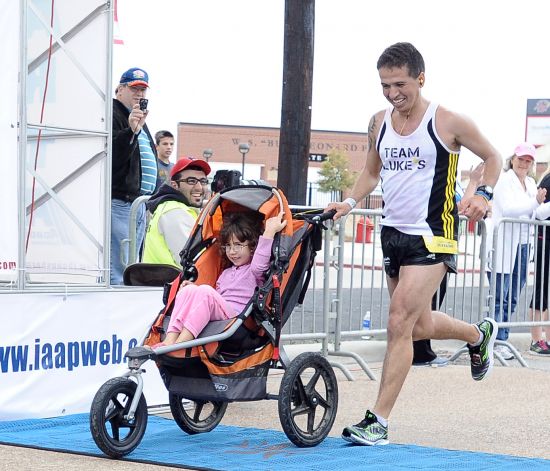 A single dad, Iram lives to run and has put off brain surgery for his cancer to participate in marathons because it is the one place that he feels normal.  Having his daughter by his side is important because if he didn't push her in a stroller, she would have to sit on the sidelines and be less involved.  His dream really is to be on the sidelines someday watching her.
Since the diagnosis, his perspective on parenting has changed tremendously. "The one thing I'm not going to say on my death bed is, 'I wish I spent more time with my kid,'" he told HuffPost.
Because he doesn't own a stroller, the one he uses, a BOB Revolution, has been lent to him by a friend.  Kiana has been his team mate for a few marathons, but last Saturday's race holds a special place in his heart.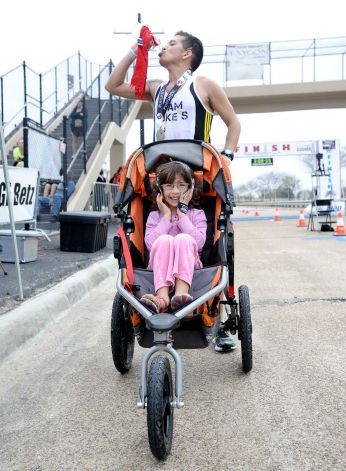 On the day of the Gusher Marathon, Iram admits that he was plagued by tire issues with the stroller, which threw off his whole pre-race regimen.  Through the generosity of another racer, they were able to swap tires so that he could still compete.
During the second half of the race three bikers came along side the father/daughter team.  One was video taping Iram's journey(below)
He normally plays music through a speaker to keep himself motivated, but being splashed by water at one of the stops caused it to quit working.  The cyclists riding along side him offered to keep Kiana entertained while he wore headphones for the last leg of the race. And it worked.  The pair came in first.
Iram reflected on his win on his personal blog saying,
Turns out that maybe brain cancer, which has come with some nightmare scenarios, also has had some that are better than I could have ever dreamed. But at the Gusher marathon, against the wind and up hill , with my princess and inspiration a step ahead of me, I ran on a highway even if I'm not allowed to drive on it. I may never get to live down having put off that surgery for that marathon, I dare to dream that I lived up to it.
So. Incredibly. Amazing.
---
[ad]