The EasyWalker DUO is a fully featured all-terrain double stroller that is extremely adaptable, especially if you have or are expecting twins. Not only does it offer the option of two carrycots, it allows the use of two car seats. If you don't have twins you may of course use just one cot or car seat with the regular seat for your older child. There is even an optional rain cover that will work the carrycot/ single seat combination. With a 29.8 inch width and a 98 lb weight limit, this stroller will carry your children anywhere you need to go.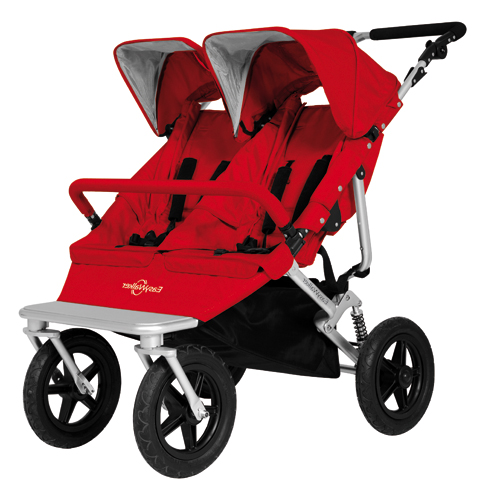 Set up
The DUO does not pop right out of the box ready to go. It does require some assembly, but nothing too complicated. It took about 15-20 minutes to fully assemble. It mostly entails adding the wheels, bumper bar and canopies. The manual is very detailed and helpful.
Features
As already mentioned, the standout feature is the adaptability, especially its ability to take two car seats (adapters are available for Maxi Cosi) The DUO positions the car seats at different levels on the frame which allows the use of two seats without becoming an overly wide stroller.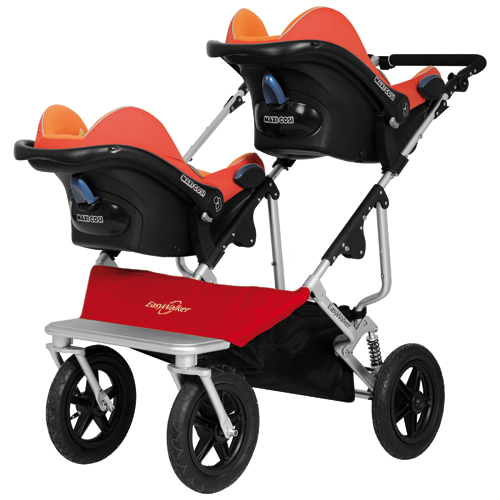 In fact, the DUO is on the narrower side and will easily fit through any doorway. It offers 12 inch all-terrain swivel wheels that are lockable for rougher terrain and rear suspension, so this stroller will roll over anything. The seats have a four position recline, including a horizontal position, yet the manual lists the seats as rated for age six month and up. Since both sides can take a carrycot or car seat this does still make the stroller suitable from birth up to about age four and, as mentioned earlier great for twins. The handlebar is adjustable (pivot, not telescopic) and there is a large basket which is easily accessible. There is a metal footplate as well as two independent canopies which offer peekaboo windows and pop out sun shades. The stroller includes a rain cover and bumper bar. Other available accessories include a diaper bag, handlebar mounted drink holder/ organizer, foot muff, parasol, UV-mosquito net and a travel bag.
In Use
The DUO has a very smooth ride. The large air-filled tires and the rear suspension roll over anything with ease and the super swivel of the front wheels makes it easy to maneuver even in tight spaces. The push is very easy, even loaded with 65 lbs of little boys.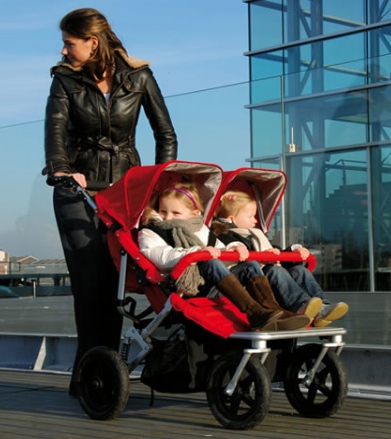 I pushed it one handed through crowds at a street fair and it was great. We went through groups of people, in the street, over curbs without hesitation and it turned on a dime. I have no doubt that it would be just as easy with my two oldest on board at 85 ponds. The weight limit is 98 pounds, so it will hold your larger children without any difficulty. The stroller itself is fairly narrow and fit easily through doorways. The adjustable handlebar takes flipping three clips to adjust the height, so adjustments need two hands and cannot be done while rolling, but it is very easy to adjust to a comfortable height. The canopies are generous and the flip out sunshades are really nice. They offer more than enough coverage to shade my seven month old daughter and still have plenty of headroom underneath for my tall three year old.
The brake is a very easy to operate foot brake that feels very secure despite the fact that I can flip it on and off barefooted. The basket is huge and has two very nice zippered fold downs that make it easy to access the basket with the seats fully reclined. The seats use zippers to recline and are very easy to operate, though not always a one-handed operation. It might take two hands to raise the seat with a larger child in the seat. The seat does recline fully flat, though EasyWalker lists the seats as rated for six months and up, but with the option of the carrycot or car seat adapters that is not a problem. This stroller is easily used from birth to four years old. The only difficulty we had is that my very tall and long legged son did manage to slouch himself down enough to get around the footboard and put his foot on the tire, but once he was repositioned in the seat and his harness tightened a bit more it was not an issue. The fold is nice. It's not one handed, but most full-sized double strollers are not. It does fold down very easily and quickly for a large stroller and is compact for a stroller of this size. The locking strap is manual, but easy to access.
Included with the DUO are a bumper bar and a rain cover. Available options include the carrycot and car seat adapters, Footmuff, Diaper Bag, Mosquito Netting, Parasol, Organizer/Cup holder, Travel Bag, Air Pump and the additional rain cover for use with one seat and one carrycot. Another nice option for the DUO is the color choices. Not only is it available in the more standard Red and Black, but it comes in a very pretty Aqua. While out on our first test ride I also saw the Silver version, which looked quite nice as well. I tested the Brown. Not enough strollers offer such a nice choice of colors and I am always happy to see a pretty blue.
The EasyWalker DUO($699.99) offers a very nice ride for your youngest to your oldest stroller riders. It is an exceptionally good choice for twins with the option of two car seat adapters. It is easy to use, fully featured and comfortable for even the tiniest of riders, yet push easily when filled.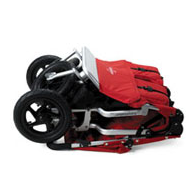 Likes
Option for 2 car seat adapters and still slim
Smooth ride with air tires and rear suspension
Easy Fold
Dislikes
An automatic lock on the fold would be nice
Specifications:
max weight 98 lbs/ 44 kg
folded 35in x 29.8 in x 19.5 in 89cm x 76cm x 50cm
unfolded 43 in x 29.8 in x 45.7 in/ 110cm x 76cm x 86-116cm
weight 37 lbs/ 17 kg
*The DUO was provided to us by Easywalker for testing – Thank you!*