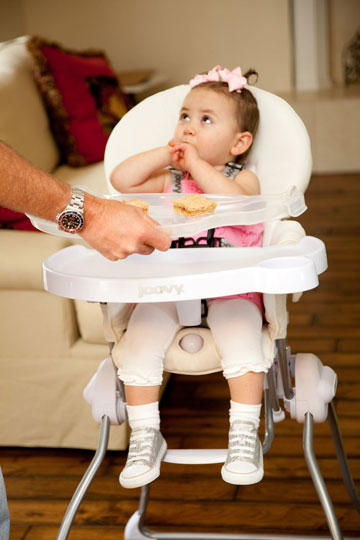 Joovy's new highchair, the Nook, is a very comfy, compact highchair that takes up very little floor space and can fold down into a tiny package which is easily stowed away in any nook or crany in your home. Despite its compact size, it offers a well padded seat, very secure 5 point harness and a swing out tray. Available in two machine washable fabric options ($129) or two wipeable leatherette options ($139), it will look at home in any decor and not stick out like a goofy baby chair at your dining room table. I tested the black leatherette model with my seven month old daughter and we both really like it. We started using it just after she turned six months old and started solids and she has been sitting in it, comfy and secure, for nearly a month.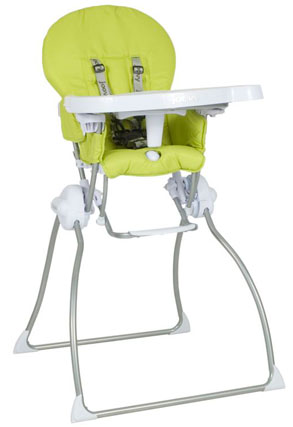 The highchair itself is a very attractive, simple, modern design that will fit well into any household. The black leatherette cover, also available in white, wipes clean nicely and does look rather grown up without looking severe. If you want something a bit less formal looking or a bit brighter, the two fabric covered versions are a pretty lemony green (Greenie) and a very happy orange (Orangie) that will still look nice in any kitchen or dining room. The chair itself is very lightweight and can easily be moved around quite easily even without wheels. Despite the chairs compact size, the tray is generously sized and has a pop off dishwasher safe tray liner and a drink holder. It is removable, but one really great feature is that the tray swings open instead of pulling out. No more worrying about the tray falling off if you pull it to far or your toddler kicking it off onto your feet, it stays put right where you want it. The tray swings easily and is very easy to operate.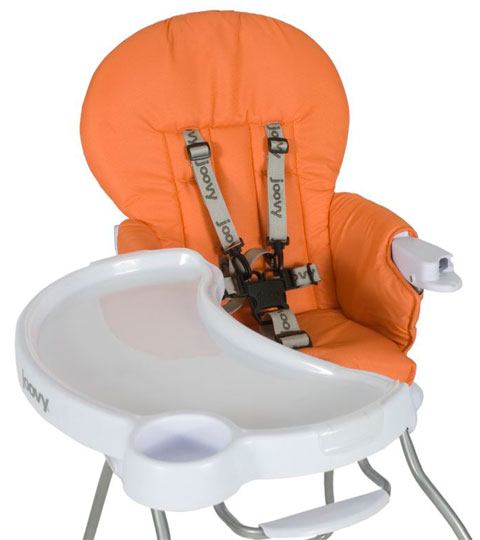 Another really great feature of the Nook is the compact fold. It folds down to a tiny little bundle that is really easy to store or move, plus it can easily be folded or opened with one hand. I often pull it out and open it up while holding my daughter. It lifts open easily. The fold is operated by a lever at the back of the seat and really is a one hand fold. It is so nice that it folds down into such a neat and easy package. Instead of taking up a huge amount of floor space like our other two highchairs that are supposedly easy to fold, but too much trouble to bother folding, we just pop the Nook open and closed and store it in a little spot between a cabinet and the refrigerator, completely out of the way. There is also a carry handle at the top when folded that makes it super easy to move around.
The Nook weighs just 15 pounds and with it's one handed fold, this highchair is as convenient as you could hope for. All of that in an attractive package and you have a great option especially for smaller spaces, such as apartments or homes short on storage space. It does not offer wheels or a recline like many larger highchairs do, but you're likely not to miss them at all, especially when you see it all folded up and out of the way. The Joovy Nook is an exceptional little modern highchair that offers a large set of features within its tiny size. – Kiersten, Staff Writer
---