Before my babies were here I was always told to get a Double Snap n' Go stroller for the infant carriers. I did, and it took hours to figure out how we were going to get our Chicco Keyfit 30 carseats into the stroller. My husband and I read and re-read the directions, watched Youtube videos and broke out the tool kit. There was definitely no snapping, more like squeezing them in, one carrier would fit fine and the other carrier had to just lay on top. It was recipe for disaster, one bump in the street and a baby could be injured.
The Joovy Twin Roo($119) is like a dream come true! Easy to assemble, no tools required and literally the carriers snap in the frame with ease and release with the manufacturer's car seat release lever.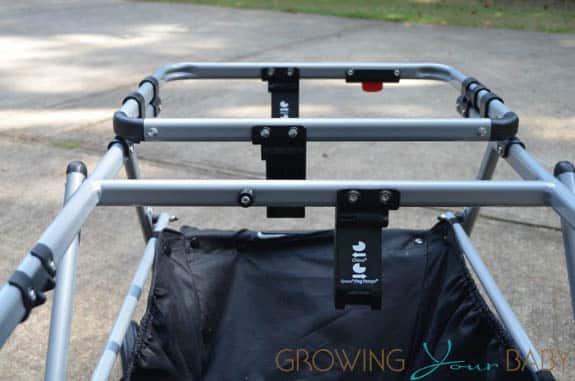 It works perfect for Chicco and Peg Perego car seats and can be modified to fit the Graco brand as well. One of my favorite things about this product is the way the infant car seats are positioned. The mountings for the carriers are sideways and each face opposite directions, this lets me see both boys easily as well as lets them be able to see each other too.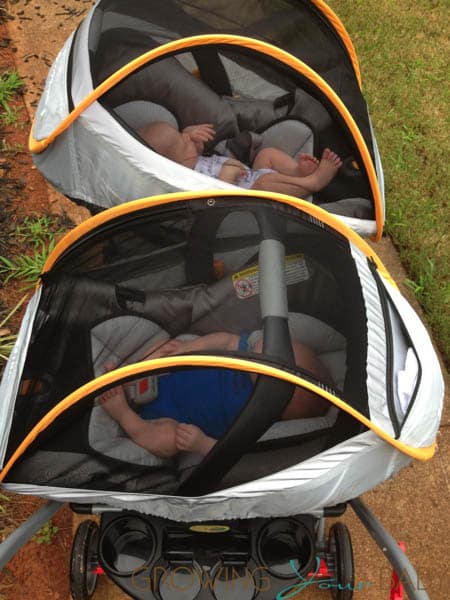 The Twin Roo has four cup holders for bottles and drinks and has a huge bottom basket for diaper bags, shopping bags and purses.
The Joovy Twin Roo easily navigates with both seats attached and both kids strapped in. Front swivel wheels and front wheel suspension along with rear wheel brakes makes pushing the twins on all sorts of terrain a breeze! At times it can feel heavy going up hills but that can be expected with pushing 30lbs of baby. We have taken it to the park, nature trails, on errands, in restaurants and have been pleased with how easy we are able to fit through doors and tight spaces.
I absolutely love this stroller however if I could change one thing, it would be the access to the bottom basket. While spacious and deep the only way to take out or put in a diaper bag and packages is to remove one of the carriers. This can get tricky when you are by yourself with the twins.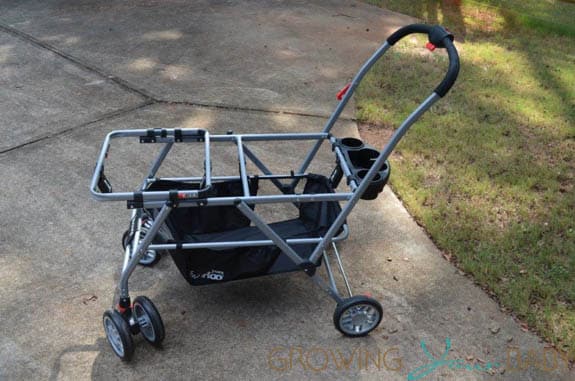 Leaving the house with two baby boys is no easy task but the Twin Roo has definitely made it 100 times easier. With one hand the stroller folds up compactly, and fits in the back of our mini-van.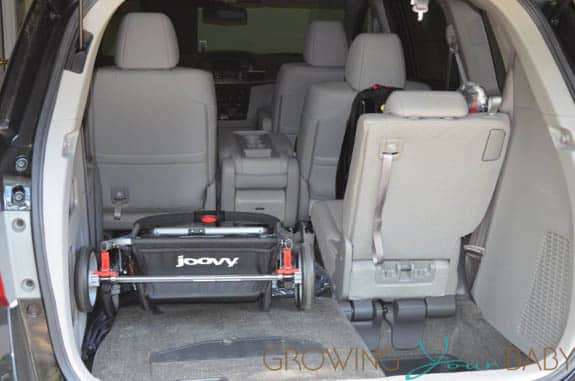 The frame is extremely sturdy and with one click, I know my babies are safe from any uneven pavement or curbs. I can't say enough good things about this product, a must-have for twins!
Some of our favorite features are: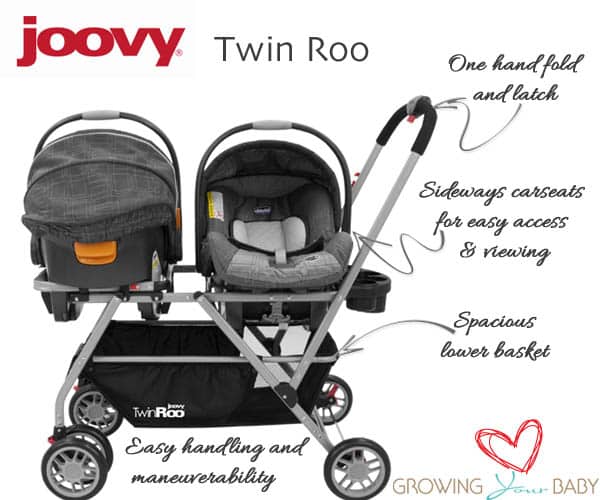 Specs:
Full Dimensions: 41.5″H x 42″L x 24.5″W
Folded Dimensions: 41.5″L x 24.5″W x 9″H
Stroller Weight: 21.6 lbs.
Max Weight: 70 lbs. (35 lbs. each)
---
[ad]