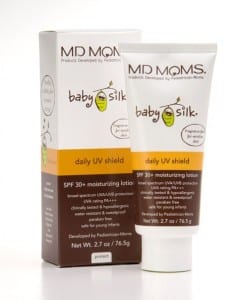 For the last 3 years MD Moms baby silk sunscreen wipes have been our sun protection of choice because they are convenient, and they work.
New for 2011, they have introduced the same great formula in a bottle form with no fragrance. This is perfect for parents who like to use just a little and don't want to open a whole wipe to just do a nose or face and those who have ultra sensitive skin.
Sunscreen is a funny thing because you don't see it working and have no way of knowing if it does until hours later when you are soothing a burn. I love MD mom's sun protection products because even on the hottest day, my active toddler has never had a sunburn when we've used the wipes or the cream. I also like that it it is a pure physical, not chemical, sunscreen that uses Titanium Dioxide & Zinc Oxide so it is safe for young infants, even those under 6 months.
On top of using it for the kids, I also use MD Moms baby silk daily UV shield for myself. It's one of the few products that I've come across that doesn't make me break out so I keep it in my bag for sunny days.
Sometimes when I find a product that is good for the environment, safe for the kids and easy to use, it doesn't always perform.  The baby silk daily UV shield is gentle, it protects their skin and isn't tested on animals.  Plus, I've met the 'moms' on many occasions and they are great ladies who are always looking to make parenting a little easier.
Other reasons why I love the baby silk daily UV shield:
Clinically tested, certified hypoallergenic and dermatologist approved
Gentle, water-resistant, sweatproof and non-irritating to the eyes
TSA-approved for carry-on luggage
Made in the USA.
Related Articles:
---
[ad]